A well-manicured lawn can add significant value to a property and can make your investment more appealing to prospective tenants.

Blogger: Paul Eslick, Justin Eslick & Geoff Doidge, The Reno Kings
Doesn't everybody enjoy looking outside and seeing beautiful lush green grass? With all the summer rain we have been having lately (at least in the tropics…) it seems everything has come back to life and is growing three-times quicker than it usually does. Sure it means the gardener of the family is hard at work mowing the lawn more often but it's worth it when you consider the alternative of a yard full of dirt with the odd, spiky tuft of grass growing here and there.
A beautiful well manicured lawn is not only pleasing to the eye it can also add lots of value to a property. From personal experience, when we look at someone's yard and they have nice well kept grass that home looks much more appealing to us, doesn't it? So what do you have to do to have beautiful grass in your yard, or the yard of your rental property to make it much more appealing to tenants - or prospective buyers if it is on the market to sell? Read on...
If you're starting from scratch, first you will need to prepare the ground. To do this you will need weed killer or a spray pack, a metal garden rake and a soil levelling rake, a shovel and a wheel barrow.
The first step is to spray the old existing lawn with a powerful spray such as Round Up or Zero. After doing so you will need to remove approximately 20mm of soil from the top. If the existing soil is of a good quality, all you will need to do is cultivate the area and mix in some fertilizer. Generally clay based soils aren't ideal so you would be advised to remove more soil so a new layer of soil can be laid on top of it. Generally replacing the soil with about 50mm to 100mm will be ample. If laying new soil you will need to ensure your mix is an 80/20 mix so you have good drainage and it will also ensure you lawn holds water well.
Using your metal garden rake and then a soil levelling rake you will need to level the area you will be turfing. Your soil should be firm but be careful it's not too compact.
Now it's time to lay the new turf.  For this step you will of course need the new turf and some form of cutting tool - usually just a sharp spade or garden scissors will do the trick. Generally it's wise to start around the perimeter of the yard, this will aid in stopping the yard from drying out too quickly. By laying each roll of turf in a brick pattern this will assist in separating the joins. You will need to cut and trim the turf pieces to size using a shovel or scissors. When laying the pieces of turf you will also need to ensure that it is laid nice and tight so there are no gaps. If you have small cuts that you don't want to waste, lay these towards the middle of the yard as this will help prevent them from drying out to quickly, as they would probably do on the edges. Laying the new turf is a very rewarding step as the transformation results are instant.
The final step to your new beautiful lawn is watering the newly laid turf. After each run (row) of turf has been laid you will need to ensure it is watered immediately. If this isn't done then you risk your grass drying out which can be critical to the final effect of the lawn. The newly established lawn will then need regular watering to ensure it roots to the ground.
Oh, and one last step….Enjoy your new lawn!
---
About The Reno Kings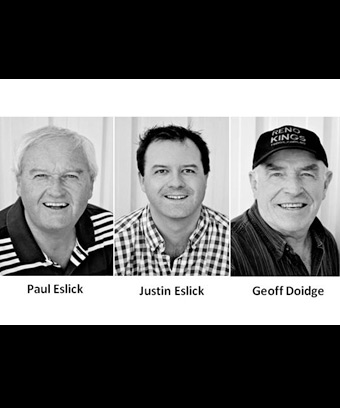 "From over 70yrs combined experience & $40million in property holdings, Reno Kings Paul Eslick, Justin Eslick & Geoff Doidge show you how to make money in property."
The Reno Kings have been successful in property for over 35 years – and it hasn't been by taking risks!  And for 12 years now they've been showing people from all over Australia how to buy exceptional property deals, cleverly add tremendous value to residential properties through cosmetic renovation and development and to safely and successfully create wealth by building a property portfolio. 
Justin has been teaching alongside Geoff and Paul for the past 5 years and his town planning and professional buying skills are so very powerful that they won't touch a property without Justin first giving it the 'go-ahead'.  Others have come and gone, but the Reno Kings have always been there, powering along, using their safe and secure formulas to build up $40million worth of property.  Thriving – not just surviving – through 35 odd years of property cycles proves that what they're doing is right!   And that's why they get so many questions from property investors and why the media always go to them for help on property and renovation stories.  The Reno Kings are the trusted name in property education.
Top Suburbs
Highest annual price growth - click a suburb below to view full profile data:
latest news