Investing in Sydney - enough with generalising in the Sydney property market.

Blogger: Edwin Almeida, Managing Partner, Just Think Real Estate

There are many investors and property buyers looking at the Sydney market with great expectations. One of the main catalysts fuelling this drive is the cash rate being lowered and reports on property shortages. David Bassanese from the Financial Review believes the cash rate may reach as low as 2.5 per cent next year. Appropriately, this would be an even greater incentive to buy into the Sydney property market. Accordingly every property purchase in Sydney should therefore be a windfall one would be led to believe.
Many property punters would like to believe when media outlets share about; property prices going up and rental yields sky rocketing, along with interest rates on a downward trend, it's the time to jump in. There is however, more to consider when looking at the Sydney property market. Mainly due to it's diverse markets, topography and demographics. Sydney is a big geographically speaking.
When the media speaks in general terms, it's just that, very general. Sydney is a very diverse and complicated market. You can be a block away to a similar property and there may be a five per cent to ten per cent difference in price. Further to this, there is very clear evidence which shows price trends are going down in many parts of Sydney, and going up in other areas. Yet the entry level price points and property types are identical.
To look at property in Sydney you have to adopt a surgical approach. You need to narrow your research from; suburb to an area in the suburb, and further the refinement process to as clinical as the street in the area within the suburb.
If you are relying on the cash rate alone as being the reason to make you a successful property investor in Sydney, you and many others can share tales of misfortune over a drink. However, if this is just one of your founding pillars than you are on the right track.
---
About Edwin Almeida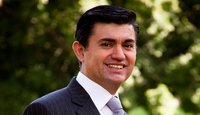 Edwin is an independent real estate agent who is passionate about teaching people the many skills he has learnt over the years. Edwin teaches people skills that can assist in making decisions on all things real estate and property, from preparing to rent to leasing property as a landlord, buying a first home to organising an investment portfolio. Edwin is most happy when he gives free advice, and shares industry secrets with other real estate professionals.
Top Suburbs
Highest annual price growth - click a suburb below to view full profile data:
latest news