To self manage, or not to self manage? That is the question

Blogger: Edwin Almeida, Managing Partner, Just Think Real Estate

Although I'm a believer in the property owner being the better person to sell their home due to the tangible savings associated with doing this, I don't believe the same applies to owners self managing the rental of their investment property. The implied savings are nowhere near the costs of associated risks an individual may face, under current NSW legislation.
Yes, it's no secret. I've been producing videos on "how to sell your own home" and "how to manage the rental of your investment property". Nonetheless, here are some reasons which may influence your decision on whether to self manage a rental or not.  I've asked a good friend and a real estate industry training expert, George Rousos, to contribute to this article so you may have a better and more informed perspective. We have summarised what would otherwise be very detailed information, into three points, to help you through the process.
1)    Regulations and obligations
If landlords are thinking about renting out a residential property, they need to be aware of the 6 primary real estate management associated risk factors, which are:
•    Knowledge and understanding of tenancy, strata, anti-discrimination, dog, fencing and privacy laws. In particular, compliance with statutory obligations relating to health or safety of the residential premises.
•    Complying with obligations to produce all legislative forms or "paperwork" as per the regulations.
•    Ensuring that the tenancy agreement is correctly completed and properly executed by giving the appropriate time frames to the tenant.
•    The condition report is filled out before the tenant moves in, and two copies of the report are given to the tenant either before or at the time they sign the tenancy agreement.
•    The lodgement of rental bond money is complied within time frames and method.
•    Managing the tenancy on a day to-day basis,including but not limited to:
      > arranging repairs within reasonable time frames
      > collecting the rent and maintaining proper rent receipts and banking records
      > conducting regular property inspections
      > handling disputes that may arise (understanding the difference in landlord, strata and tenants responsibilities)
      > paying bills for services to be supplied to the property (e.g. water and council rates)
Point 1 is a brief summary of statutory obligations, prepared by George, to emphasise some of the main legal requirements which are imposed on the landlord. These would otherwise be taken care of by the managing agent.
2)    Financial advantages to be considered by having an agency manage the property
•    Management fees may total to $24/week on an average rental of $400/week at a 6 per cent fee payable to an agency.
•    The management fees paid to the agency are in most cases refundable under taxable claims.
•    Most agencies don't charge for advertising a rental of a property and agencies are connected to the main enquiry portals to assist in quick occupation of the home.
•    Most agencies have a team of tradespeople that can conduct repair work cheaply. Eliminating down time and lengthy quoting processes that you would otherwise have to tolerate.Quick and efficient repairs make tenants all the happier.
3)    Minimum expert management service, you should expect of the real estate office
•    Agencies have an obligation to provide a satisfactory level of service under the Management Agency Agreement (MAA) which includes;
      > At least 2 mid-term inspections a year– this should be the standard expected of the agency.
      > An ingoing inspection report with digital photos before the tenants take possession of the property, this is also a minimum requirement.
      > An outgoing inspection report when the tenant hands over the property at the end of the lease period, accompanied with photos which is another standard practice that must be expected of the agency
•    Most offices pay for property related bills on behalf of landlords at no extra cost
•    Most agencies attend to repairs and maintenance works on behalf of the landlords without the landlord paying for further administrative costs.
I understand services provided by real estate agencies differ greatly. I also empathise with you if you have been a victim of what we call "under management" which has been causing you grief. This grief I understand translates to loss of time, money and value of your home. However, this alone should not be the reason why you would want to self manage the rental of your home.
By using points one and three as your guide to choosing your next property manager, this will set a benchmark for the minimum requirements you should be expecting. Or this may just be a good starting point. But when you take into account the balance of this article, ask yourself the question, "why would you self manage the rental of your own home?" After all, real estate agents have an obligation to provide a service to you under the MAA, no less than what I have noted in point three above.
Now the onus is on you to select and properly qualify the agency you chose; to protect your property, to protect you as a landlord and if I may say, work with you to increase the value of your property. Also turn your mind to the amount of work, possible headaches due to the close proximity of your relationship to the tenant, if you self managed the property.  Do you really want to go through all this to save $24/week? Now, think about what you can gain by simply taking the time to select the right property management company that will work with you and not against you
---
 About Edwin Almeida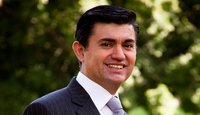 Edwin is an independent real estate agent who is passionate about teaching people the many skills he has learnt over the years. Edwin teaches people skills that can assist in making decisions on all things real estate and property, from preparing to rent to leasing property as a landlord, buying a first home to organising an investment portfolio. Edwin is most happy when he gives free advice, and shares industry secrets with other real estate professionals.
Top Suburbs
Highest annual price growth - click a suburb below to view full profile data:
latest news