Last week I caught up with some friends that I hadn't seen for a long time. I wanted to stay in touch with my high school mates and I asked each of them how their job was going, how their girlfriend or wife was doing etc. I quickly came to a realisation.

Blogger: Matthew Lewison, Open Corporation
It became apparent quite quickly that their lives had moved on since we last spent any time together, 4 or 5 years ago and the jobs that they had loved so much were now just distant memories. Some were at new businesses, while others were in completely different industries (and one was a stay at home dad, just to keep the demographic interesting). I started to worry that perhaps I didn't know my old friends any more but as the conversation wore on I realised that the personalities of each of them hadn't really changed, even though they had been moulded by the few years since we last spent time together.
During the week I have been reflecting on this catch up and it struck me that investing our money is similar to investing in our friendships. While on the surface our friends can change quite quickly the foundation of their personality was built long ago on solid ground and it takes a lot longer to change with any significance. Sometimes we just need to look past the topical items of conversation to get to the truth.
To give one example, in 2007/08 when the Queensland property market was going through a boom the major newspapers couldn't stop writing stories about the growing housing shortage in the Brisbane market. "This time the boom is different," they implied, and suggested that the great Australian dream would be unachievable for future generations because prices were going to go up so quickly. The market came off the boil around mid-2008 (just before the GFC, despite many misconceptions to the contrary) as interest rates started to pinch and in the following 3 years the word "undersupply" was barely mentioned in a metropolitan newspaper. On the other hand, talk moved to the fickle tourism trade, the floods, local elections and anything else that could be blamed for a slower property market. Today housing affordability is at close to 10 year lows.
Economic cycles come and go and no matter what it may look like on the surface the foundations of the market were set long ago. When I saw my old friends last week and it seemed to me that they had changed so much, because they had new clothes, new children, new phones and new jobs, I forgot that I too had changed on the surface but underneath I am still the same guy that I was 5 years ago.
When you next get caught up in the hype of the market, whether it be the property or the share market (or the local fish market), remember that nothing has really changed. While we as individuals might suffer from short term stresses and lack of sleep (as I can attest to with a 7 month old baby at home), or we may be caught up in the emotion of planning a holiday, we eventually move back towards a stable level of happiness and comfort. We are who we are and it won't change just because we were busy at work for a month. The market is no different – it will have its ups and downs but in the long run it generally reverts back to a trend of steady growth. Property prices will recover (when they are flat) and flatten if they are getting too high, the share market will grow over the long term, and your local fishmonger will once again find that elusive freshwater barramundi – the oceans will not dry up.
The market is designed for growth and the government will do everything to bring markets back to trend growth if they get out of hand. Unfortunately, our bodies are not designed for perpetual growth – so best not to challenge the teenagers around the corner to a game of basketball this weekend!
---
 About Matthew Lewison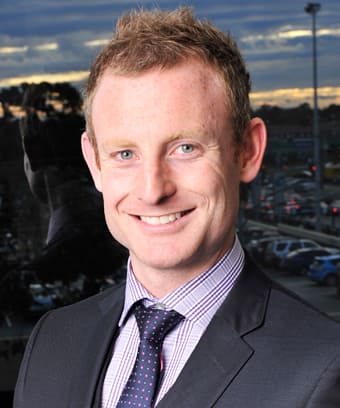 Matthew is an author, and managing director/CEO of Open Corporation. He believes that exceptional results are only achieved by pulling together a great team of professionals, all driven to a standard of excellence and focused on realising a shared vision. Understanding the competitive environment and investment risks, as well as the drivers of growth, is paramount in outperforming the competition – and Matthew has ensured a deep understanding of these factors in Open Corporation's team.
Broad knowledge of the property market and investment fundamentals, saw Matthew promoted to General Manager (QLD) of a publically listed company at the tender age of just 26. In this role, he was responsible for a portfolio exceeding $1 billion. Having delivered such projects as the $185 million Knox City & Ozone Shopping Centre Redevelopment (Vic), the award winning Warner Lakes Estate (QLD) and the $200m Caboolture Riverbank master-planned community (QLD), Matthew has an established reputation in the Victorian, Queensland and Western Australian property industries and has also been involved in senior committees of the UDIA at a state level.
Top Suburbs
Highest annual price growth - click a suburb below to view full profile data: