When I started my investment journey my father used to ask me why I was in such a big rush to make a fortune. Hard as it was to believe at the time, he told me that he too had been an ambitious, hopeful and studious entrepreneur when he'd been my age.

Blogger: Matthew Lewison, Open Corporation
That couldn't have been a bigger contrast to my father, as he was in his early 50's who lived by the mantra, "if somebody makes a mistake, pay to fix it for them." The money we watched slip through his hands would make a grown man weep most days.
Now, don't get me wrong, my father is no mug. He is a self made multi-millionaire that started a building company in his late 30's and establishing a solid reputation for being fair and honest and delivering good quality product. He grew an investment property portfolio from scratch, after leaving nearly all of his assets to my mother in an amicable separation in 1996. The only financial asset he kept from the marriage was the deposit he'd just paid on a large home site in Boronia, VIC. From this small "seed" his fortune grew - but from his kids perspective, he never broke a sweat and we always pestered him about why he wasn't doing more. I guess we all associate success with material things and perhaps my brother and I were naïve at the time and wanted to tell our friends that Dad was driving a ferrari, but that just wasn't him.
I remember Dad telling me 18 years ago, as he was just starting his journey, that all he wanted was 7 houses and he would retire. The first would pay all the bills, and the other 6 would provide his income. With no debt, his wealth would grow forever as would his income (when he put the rents up, which he rarely did) and he'd never have to work. It seemed like a reasonable goal, but why stop at 7 we'd ask? In hindsight, it was a goal that he knew was achievable so it made it easier for him to start - goals that are unachievable are usually a deterrant and so they never get pursued. In reality, he now owns much more than the 7 properties he started out to acquire. But still he never seemed to be driven to succeed. As a young man I just couldn't understand why he wasn't trying to grow his business by taking on more projects or doing some marketing, and why he wasn't leveraging more to grow his wealth at an even faster rate than he had.
I remember clearly when I told him that my wife Claire was pregnant with our first child. After the expected hand shaking and back patting he said to me, "Matty, I've told you before that I was as ambitious as you when I was in my early 20's. I went to every investment seminar I could get tickets to, and I told all my friends that we could make a fortune from property if we pooled our resources. I knew it was the way to grow my wealth, and I wasn't afraid to borrow. By my late 20's and through my 30's I had two kids, I still believed that property was the way to grow my wealth but I couldn't afford to get started. You might remember me working a night job, doing some estimating for other builders to earn some extra cash. It was all so that I could invest in property. In my 40's you were teenagers and your mother and I separated so I had a chance to take some more risk. I took on a litte more debt than I had previously and I pushed as hard as I felt comfortable and kept it up for 10 years."
"In that 10 years I achieved what I had always wanted to achieve by doing what I knew I needed to do. It wasn't fancy, it was just playing the numbers and eliminating risks wherever i could. I did it ethically and I slept well at night. Now that I'm in my 50's I don't need to take risks. All I want to do is maintain my lifestyle and not lose any money before I retire. You mark my words, every 10 years your ambitions and appetite for risk will change and you won't regret it - you'll adapt to your circumstances and do what's right for your family at the time, just like I did. Now that you're starting a family you'll understand why my ambitions have changed over the years - it's because my priorities have changed."
I was fortunate to start investing much younger than my father (I acquired my first property at the age of 18) and I started my family about 10 years later than he did (now in my mid 30's) but his lessons are relevant nonetheless: I set achievable goals and reset them as I reach my milestones, I prioritise time with my family little boy, Patrick, before he goes to bed then I do a few extra hours of work to give myself every chance of getting ahead, and I avoid taking on risks that will keep me up and night. At the end of the day, I'm not investing for my own ego anymore - it's for my family so all of my decisions take them into account: just as my father has been doing all these years... And so the penny drops.
---
 About Matthew Lewison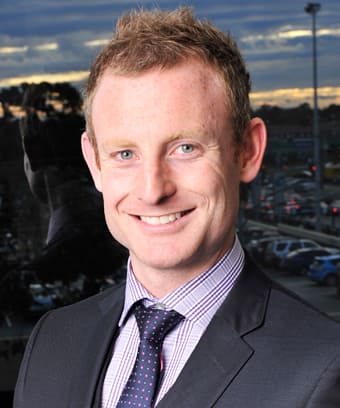 Matthew is an author, and managing director/CEO of Open Corporation. He believes that exceptional results are only achieved by pulling together a great team of professionals, all driven to a standard of excellence and focused on realising a shared vision. Understanding the competitive environment and investment risks, as well as the drivers of growth, is paramount in outperforming the competition – and Matthew has ensured a deep understanding of these factors in Open Corporation's team.
Broad knowledge of the property market and investment fundamentals, saw Matthew promoted to General Manager (QLD) of a publically listed company at the tender age of just 26. In this role, he was responsible for a portfolio exceeding $1 billion. Having delivered such projects as the $185 million Knox City & Ozone Shopping Centre Redevelopment (Vic), the award winning Warner Lakes Estate (QLD) and the $200m Caboolture Riverbank master-planned community (QLD), Matthew has an established reputation in the Victorian, Queensland and Western Australian property industries and has also been involved in senior committees of the UDIA at a state level.
Top Suburbs
Highest annual price growth - click a suburb below to view full profile data:
latest news