Over the course of the weekend I watched my 10 month old son, Patrick, go from taking a few tentative steps behind his baby walker to practically running down the hall behind it.

Blogger: Matthew Lewison, Open Corporation
It amazed me how he could struggle for so long to get one foot in front of the other (despite my assistance) to being able to hoon around like he'd been doing it for years in the space of two days.
This milestone reminded me how many things in our lives seem to require perseverance over an extended time and then, all of a sudden, we have shot through the other side and are wondering what all the fuss was about.
Over the last five years I've watched a number of property markets around Australia go through an interesting struggle. Perth came off the boil in 2007 after two years of incredibly strong price growth and it was flat for the next five years. Brisbane hit its slow-down in early 2008, just before the GFC, and has struggled to find its feet ever since. Sydney went through a similar process through the mid to late 2000s and Melbourne prices reached a peak in 2010 and have now been flat for around three years.
With that said, in recent months we've noticed a marked increase in sales enquiries across our projects in Victoria, Queensland and Western Australia. Not surprisingly, our sales volumes have picked up and the general feel of the market has shifted from a "buyer's" market to a more neutral market – this being the point where good properties are selling quickly and not-so good still require a degree of discounting to get sales across the line.
While this pick up in activity is long overdue for the Perth and Brisbane markets, it is a little out-of-cycle for Melbourne. On the recent history of the other key states (QLD, NSW and WA) the downturns following a big boom period have typically lasted four to five years before volumes have started to pick up again.
Now, I talk about volume because that is a pre-cursor to price growth. Volume growth is like the struggle to find our feet when we are learning to walk. As volumes pick up the amount of titled stock generally decreases as it is absorbed faster than new stock can be developed. As it does, the urgency of buyers usually increases as "fear of missing out" takes hold.
All of a sudden, the market has shifted from a buyer's market to a seller's market and prices start to increase. To put this in perspective, in 2005 I was developing a large (1,700 lot) development in Brisbane and we were giving 10 per cent discounts off our list price in order to get sales. We sold 22 lots in the last six months of the year.
The first six months of 2006 started better and we sold 70 lots (with no discounts) and the following six months we sold 100 lots "off the plan" at prices 10 per cent higher than our original prices. That was a 20 per cent turnaround in the space of one year.
When I watched Patrick running down the hall behind his baby walker on the weekend it reminded me of this period of time, where the struggle is succeeded by a period of rapid growth. 
There's a lot of talk about the likelihood of another interest rate cut (or two) over the next few months. The interbank cash rate published by the ASX as a good indicator that we are likely to see at least one cut. So what does that mean for our markets? I don't have a crystal ball, but based on the increase in volume that we have seen in our own projects (and which are being reported by major developers across Australia's major markets) I'm of the firm opinion that we are just about ready to run down the hall (again).
---
 About Matthew Lewison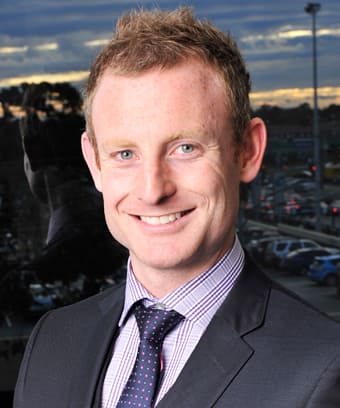 Matthew is an author, and managing director/CEO of Open Corporation. He believes that exceptional results are only achieved by pulling together a great team of professionals, all driven to a standard of excellence and focused on realising a shared vision. Understanding the competitive environment and investment risks, as well as the drivers of growth, is paramount in outperforming the competition – and Matthew has ensured a deep understanding of these factors in Open Corporation's team.
Broad knowledge of the property market and investment fundamentals, saw Matthew promoted to General Manager (QLD) of a publically listed company at the tender age of just 26. In this role, he was responsible for a portfolio exceeding $1 billion. Having delivered such projects as the $185 million Knox City & Ozone Shopping Centre Redevelopment (Vic), the award winning Warner Lakes Estate (QLD) and the $200m Caboolture Riverbank master-planned community (QLD), Matthew has an established reputation in the Victorian, Queensland and Western Australian property industries and has also been involved in senior committees of the UDIA at a state level.
Top Suburbs
Highest annual price growth - click a suburb below to view full profile data:
latest news