If you've owned an investment property for some years, chances are you understand the importance of quality repairs and maintenance versus cheap, quick fix alternatives. Paint is no exception.

Blogger: Naomi Findlay, International Institute of Home Staging

The key is to minimise the level of ongoing attention needed by you as the property owner by implementing lasting solutions. One of the main bugbears for any property owner is painting and repainting.
A property that is clearly in need of a new paint job will ultimately limit your rental return and when you consider that it often comes down to simply choosing the right type of paint in the first place, it really is worth taking the time plan it properly.
Here's how
So you've finally chosen the colours you want to paint your interior walls with, but before you let out that almighty sigh of relief, there is one more decision to make that is just as important: choosing the right paint finish.
When considering the different types of finishes, think about the function of the space you are painting for. Is it a multi-purpose room? Does it need to be easy to clean? Are you painting the walls simply to be decorative? Making a list of these necessary qualities will give you more information on the type of paint finish you actually need to be looking for.
Now, don't be swayed by your lack of knowledge about different paint finishes! While there are many to consider, the important thing is to keep it simple and to choose from the following categories:
• Matte
The most popular finish used on interior walls and ceilings because of its minimal shine. A matte finish gives depth to the colour and therefore the room, rather than reflecting it back on the space. For higher traffic areas, it may be wise to go for an enamel-based matte finish as it dries to a much harder finish and is more durable, unlike an acrylic-based paint.  The only downsides are the strong odour, longer drying time and difficult clean up (with turps) required. It is an ideal finish to disguise imperfections, particularly useful for older homes.
 
• Semi-gloss
This finish is usually used on trims, architraves and doors.  It leaves a subtle reflective finish and can handle minimal rough treatment, making it easy to wipe clean.  A semi-gloss finish works well if you have a room that feels a little dark as the slight reflective surface will allow light to bounce around the space, making it appear brighter and larger.  But don't forget that it will highlight imperfections, so before making the choice to use a gloss finish of any kind on your walls, ensure they are well sanded and imperfection free!
• High-gloss
This finish is the most durable and light reflective of all paints. Its beautiful shiny finish can be used for interior trims, doors and architraves. If using the same colour on walls and trims, the extra high shine on the trims will produce colour variances, displaying a beautiful contrast. The high durability factor means it is also great for outdoor trims.  Both semi and high gloss paints are available - acrylic or enamel based.  Try high gloss on your wooden front door for a striking and dramatic entrance!
• Satin
This paint leaves a beautiful velvety finish and is a good compromise when deciding between matte and semi-gloss.  Slightly more reflective and durable than a matte finish, it is often a popular choice for kids bedrooms and other more high traffic areas.
• Natural
For those looking for a 'greener' alternative, consider paints that use plant and other natural oils, or mineral extract bases.
• Painting kitchens, bathrooms and laundries
It is most important to choose a paint with anti-bacterial qualities, which will help reduce the risk of mould in these highly moist areas.  All leading paint brands, including Taubmans and Dulux, offer specialty paint for these areas, in both matte and gloss finishes.
Taking the time to choose the finish can mean that you have a lasting and great looking surface to match the amazing colour you choose.  So make sure you put some thought into the function of the paint to pick a finish that not only looks great, but also lasts well.
---
About Naomi Findlay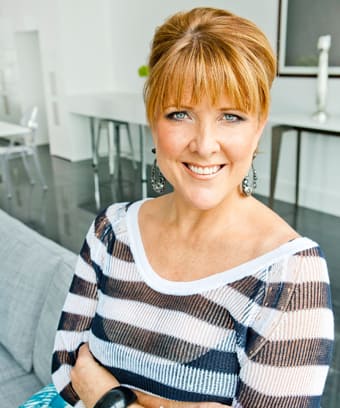 About Naomi Findlay, founder of IIHS and SILK Home Staging & Styling:
Naomi Findlay started her successful home staging business, SILK Home Staging & Styling, three years ago and is now also the founder of the International Institute of Home Staging (IIHS). IIHS combines her experience in running her own successful home staging business with her awarded expertise in tertiary education.
 
Naomi has received teaching awards from the University of Newcastle and the Australian College of Education and been nominated for a national award with the Australian Teaching and Learning Council. She is also the author of a bestselling book, Ignite Your Property Mojo, in addition to being a regular columnist for realestate.com
Top Suburbs
Highest annual price growth - click a suburb below to view full profile data: