To some, the differences between investing in a house or an apartment may be countless, complicated and dependant on the situation. Using our collective and extensive property knowledge and experience, we set out on the debatable topic of whether it is best to invest in  a house or an apartment.

Blogger: Scott Chapman, Matthew Baxter, Andrew Bray and Shane Irwin, Opteon Property Group (Victoria)

For Apartments/ Against Houses
If you want a low maintenance, ready to go investment, then your best interests are to buy an apartment. There is certainty and comfort with the knowledge that costs are fixed (such as yearly body corporate fees) and major building repairs will be shared by all owners in the complex. It is best to ask for a copy of the breakdown of the owner's corporation fees, and also minutes of meetings, as this is not usually included within Section 32 of the contract.
Apartments are often cheaper to purchase, particularly if you want to invest in the inner parts of capital cities that boast high rental demand. They also tend to be more attractive to tenants and will regularly deliver a higher rate of return in terms of rental income. If you want to buy an investment property in a capital city, houses at affordable prices can be difficult to find. And even if you do find one, it will probably need work meaning sunken costs before you even start generating rental income.
When it comes to maintenance flip the pro apartment argument on its head. For houses,  you'll  be liable and responsible for all maintenance bills whenever they fall due, and it does not offer any  benefits like the economies of scale, for example the upgrade of hot water systems or windows. You are responsible for maintaining the boundary fencing and internal appliances such as heaters, air conditioners etc. You'll need to ensure that your tenant is happy and able to maintain the appearance of the house as opposed to having a professional tradesperson attend the property once a month.
Isn't it just easier to invest in an apartment and just attend a body corporate meeting once a year?

Against Apartments/ For Houses
Once you've bought an apartment, you can't just forget about it and watch the money roll in. While it may require less effort, you'll also have less control of maintenance, improvements and appearance of the property. Even if the body corporate is active and good at maintaining the complex, their fees will eat in to your return and could potentially rise. You are at the mercy of the body corporate rules and regulations, and also the other owners when it comes to resolving any issues. And it only gets worse if you consider student accommodation or serviced apartments. Even though they offer a high potential gross return, it is offset with high fees and bureaucratic management structures. Another significant point to consider is you will be paying income tax on the cash flow generated by apartments with fewer costs to offset these earnings at tax time.   
What is missing when you buy an apartment or unit? Land. Land is the main driver of value, and property should be bought with a long term outlook. While you may generate lower returns, you can reap the benefits of negative gearing. In a few years, if you buy well, you'll have equity available that will enable you to purchase additional investment properties. You'll have more control and you can do far more to improve the appearance of a house to increase its value in the short term. This can be as little as a lick of paint for the exterior to subdividing the block and redeveloping the land.
The Final Decision
Either option offers justified arguments and investment growth and opportunities. Further more the investors circumstances and reasons for investing, and what they are trying to achieve will be important factors to consider. The decision will be based on more than just the characteristics of each property. The motivations and ability of the buyer are situational factors that can't be ignored. Some apartments may have excellent management, allow the owner freedom to make improvements and deliver capital growth. Some houses may be affordable, never need any work and generate excellent income.
It is impossible to make a general statement that a house or apartment makes a better investment, but one thing is certain; when you own an apartment or unit, you rarely own the plot of land as well. Owning land not only increases the capital growth potential of a property, but also adds another aspect to the nature of the investment including future flexibility as to the use of the investment. Investors must be prudent when buying houses to ensure they have a buffer to accommodate potentially lower returns and major repairs, but if they do, the result is a more versatile investment that they have more control of. This may represent a lower risk and give houses a slight edge over apartments.  
---
 About Opteon (Victoria)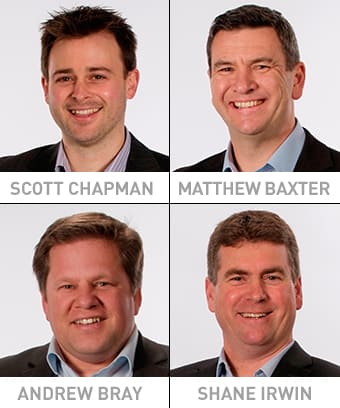 Opteon (Victoria) belongs to the Opteon Property Group which comprises 25 of the most respected and established valuation firms in Australia. We work for lenders, owners and buyers of all types of property. Our valuers and advisors work as consultants to governments, corporations, businesses and individuals. We have more than 100 valuers and 15 office locations throughout Victoria.
Andrew Bray
Andrew has been with Opteon since 2001 and conducts valuations in the Ballarat region, co-ordinates the rural department and oversees the company's Bendigo, Mildura and Ballarat regions. A certified practising valuer, Andrew has a Bachelor of Commerce (Land Economy) and a number of other property related qualifications.
Shane Irwin
Shane has been with Opteon since 1997, and oversees the activities of 16 valuers. He is also the managing valuer for specialised valuations in the Geelong and Colac regions. Shane holds an Associate Diploma in Valuations from RMIT and has extensive experience in the commercial and industrial sectors.
Scott Chapman
A licensed estate agent, Scott also holds a Graduate Diploma in Valuations from RMIT and has 36 valuers, including six commercial valuers, reporting to him. His expertise encompasses advisory valuations to major developers regarding their products and projects. Scott is also experienced in the fields of commercial, industrial and retail valuations.
Matthew Baxter
Matthew joined Opteon in 2005 and manages a team of 36 residential and commercial valuers. Matthew's expertise extends to a number of specialised areas including asset valuations for financial reporting, compensation valuations, strategic investment property advice and subdivisional land.
Top Suburbs
Highest annual price growth - click a suburb below to view full profile data:
latest news