Designing a new kitchen can be daunting. After all, it is the hub and heart of the home. In a space where everything can be going on at once, both functionality and aesthetics are important.

Blogger: Naomi Findlay, International Institute of Home Staging

Naturally, we often sweat over the major features, such as the type and style of appliances, amount of cupboard space, and the type of paint finish for the walls. But it's the little things that matter, especially choosing the right tapware. Just like a fashion statement, it should complement the overall design and feel of your new space. So which style best suits you?
Sharp and crisp
Are you naturally drawn to sharp, clean lines and edges? Are you going after a sleek and shiny minimalist look? It's safe to say you have a modern style, and would most likely be going for the same type of tapware with block shapes and polished chrome finishes.
Commercial
Want to bring your favourite restaurant's style home? Consider yourself a commercial enthusiast. Think along the lines of a pull-out spray nozzle with a coil around the hose. You're very likely to already be picturing a large silver freestanding cooker and heavy iron pots hanging from a suspended ceiling rack.
Traditionalist
Insisting on keeping it 'old school'? Look at Bib Taps, where two matching hot and cold taps are wall mounted either side of a spout, just screaming full of tradition. A Pillar Tap does the same, where one screw tap sits on top of a tall spout. A Bridge Pillar Tap is bound to take you back even further - this style sends one to Downton Abbey in the early 1900's!
Country and homely
Prefer a warmer and more homely feel for the space that is the heart of the home? If your style is distinctly country, you should be leaning towards nickel or pewter tapware, softened with porcelain white handles. Boost up the charm by mounting the taps over a butler's sink.
The one that stands out
Not afraid to stand out from the crowd? Are you the type of person that is thrilled when visitors become wide-eyed impressed by the wonderful furniture and accessories around your home? Contemporary is your middle name. Incorporate cutting-edge designs in your kitchen that will be the subject of endless conversation and inspiration for gastronomic creativity. Unique and eye-catching, your kitchen will be the pick of the bunch.
No matter which style you are naturally drawn to, there is a tap to suit you. Pinterest has an endless collection of designs that can help give you ideas. In the end, your kitchen tapware should be the icing on the cake, adding pizazz to the centre of your home and suiting your individual style.
---
About Naomi Findlay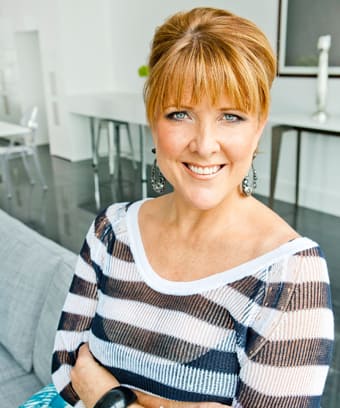 Naomi Findlay started her successful home staging business, SILK Home Staging & Styling, three years ago and is now also the founder of the International Institute of Home Staging (IIHS). IIHS combines her experience in running her own successful home staging business with her awarded expertise in tertiary education.
 
Naomi has received teaching awards from the University of Newcastle and the Australian College of Education and been nominated for a national award with the Australian Teaching and Learning Council. She is also the author of a bestselling book, Ignite Your Property Mojo, in addition to being a regular columnist for realestate.com
Top Suburbs
Highest annual price growth - click a suburb below to view full profile data:
latest news