GET SET FOR LIFE
Australians are increasingly realising they may not be able to rely on the government to fund their retirement. Property gives people the option to continue their current lifestyle well into their old age – but can the average Australian build a retirement-ready portfolio? Smart Property Investment crunches the numbers and looks at what's involved in generating a passive income through property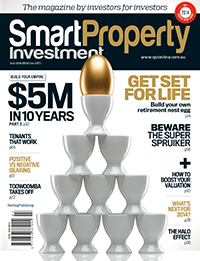 With recent speculation that the pension age is going to keep rising and constant reminders from finance experts that Australians are approaching retirement woefully underprepared, many people are wondering how they can take control of their financial future.
Australians are increasingly realising they are unlikely to be able to rely on the government for financial assistance in their old age. Indeed, director of wHeregroup Todd Hunter says it's time for a wake-up call.
"For people our age, there won't be a pension," he says. "It's a mathematical impossibility for there to be a pension on a growing, expanding and ageing population, with only a limited income coming in. It just won't be there. You will have to support your own retirement."
Many people recognise this inevitability but don't know what to do about it. In fact, Mr Hunter says a vast number of people in the workforce at the moment are relying on death to fund their retirement life.
"There is a tonne of people out there who are expecting an inheritance and they think that will be their retirement," he says. "There is also a lot of ignorance out there that will catch up with people later in life. People turn a blind eye and assume it will all be okay, but it doesn't work that way."
Ben Kingsley, director of Empower Wealth and chair of the Property Investment Professionals of Australia (PIPA), says most people don't realise they have a problem until it's too late. In addition, projections about the future value of money, changing economies and inflation can confuse and frustrate people, he says.
Despite the confusion, Mr Kingsley says investors who want to live a stress-free retirement need to take control now. So the experts (and the figures) are telling us we need to do more. We need to take control. We need to build wealth. We need to be prepared. But where do you start?
READ the full article in the latest issue of Smart Property Investment – ON SALE IN NEWSAGENTS NOW.
Click here to subscribe to Smart Property Investment.
Top Suburbs
Highest annual price growth - click a suburb below to view full profile data:
latest news