One region just outside a capital city has become one of the hardest places in Australia to sell property.
SQM Research's "Top 10 most discounted properties nationwide" list reveals that it is becoming increasingly difficult to sell properties in the Carabooda region of Western Australia, about 45 kilometres north of PerthPerth, TAS Perth, WA.
Of the 10 most discounted properties nationwide, two were in Carabooda, according to SQM.
The first, on Carabooda Road, so far has had a 37 per cent reduction in asking price, dropping from $1,650,000 to $1,032,000. The property has been on the market for 633 days and the property placed fifth on the list overall.
The other property, on Bernard Road North, has come down by 35 per cent (from $3,500,000 to $2,272,000) after 633 days on the market, placing it sixth on the list.
The most discounted property in the nation is in Ranelagh in Tasmania. The initial asking price of $2 million is now down to $995,000 (a 50 per cent discount).
The property has been on the market for 782 days. The longest days on market experienced by any property on the list is 1,292 – a property on Tinderry Road in Michelago, a region in New South Wales 54 kilometres south of Canberra.
Of the top 10, four were in Western Australia, two in New South Wales and Tasmania and one each in the Northern Territory and South Australia.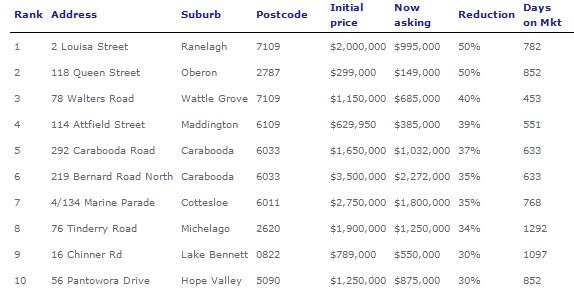 Source: SQM Research
Be the first to hear the 
latest
 property investment insights