Reports of strong price growth, auctions sailing past their reserve and buyers falling over themselves to purchase properties in Sydney needn't cause you to feel you've missed the boat and should stay out of the market.
Blogger: Mathew Tiller, national research manager, LJ Hooker
The reality is there are some markets that have overperformed, areas which have seen average levels of growth and suburbs which have underperformed. So instead of looking at the Sydney-wide average it's important to drill down to a suburb level to understand what components make up the headline result. 
When the reports come out about where investors can achieve the best result they seem to focus on Sydney's west because the headline results show higher affordability which generally lead to higher yields. However, while it's good for a headline not everyone's investment strategy revolves around buying the most affordable properties.
For a majority of investors, especially first-time investors, their initial search and preference is for property in their local area. This is because they know the area, live or work in the area and understand the dynamics which drive the region.
So we've drilled down to suburb level and have found that each region of Sydney has a number of suburbs which can provide you with a property that matches your investment strategy.
The data shows that each region has at least one suburb with a rental yield over five per cent, aside from the inner west. For those looking for affordable property each region has a suburb with a median price under $600,000. While all regions of Sydney had suburbs which saw prices increase by more than 20 per cent, they also contained suburbs in which prices barley moved over the past year.
As with all investment decisions it is vital to be comfortable with the area you're investing in. Whether it is close to home, in another state or another country you need to look through the headline results and understand what is happening on the ground at a local level.
The table below shows a range of suburbs that you may not have considered in your search and shows that within each region there is a wide range of options depending on your investment strategy.
We have broken these regions down into;
• Solid rental yield for those investors looking for income-producing properties
• Suburbs with a low median price for those that are looking for affordable properties to invest in
• High price growth for those looking at capital growth as a driver for investment
• Low price growth for those looking at areas which may have underperformed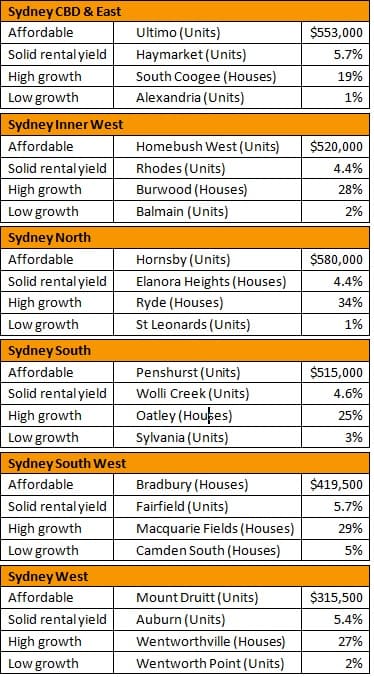 Data source: CoreLogic RP Data
Contact this Blogger Immediately
About the Blogger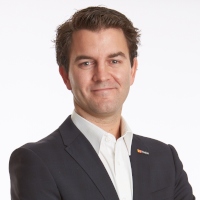 Mathew began his property career as a sales and leasing agent in Dubai, before moving into research in Sydney. During his career he has gained experience across many facets of residential and commercial property. Mathew has delivered major research and consultancy reports to many global and domestic property landlords, developers and investors, as well to government organisations. Mathew is responsible for managing the delivery of all property research, consultancy and economic advisory projects across the LJ Hooker network.
Top Suburbs
Highest annual price growth - click a suburb below to view full profile data: