Astute property investors should now be targeting oversupplied capital city markets in Australia because of the long-term benefits.
Blogger: Shane Kempton, CEO, Professionals Real Estate Group
Both Perth and Darwin have excellent long-term economic prospects and it's only a matter of time before their property markets rebound, so by investing there now, you gain the long-term benefits.
It is important to note that there are currently more properties for sale in Perth compared to Sydney.
The latest CoreLogic RP Data figures for August 2015 show that there were 19,731 properties listed for sale in Perth compared to 18,183 in Sydney.
This is despite the fact that Perth, with two million residents, has less than half of the population of Sydney, with 4.7 million residents.
Perth has more properties for sale than Sydney because the number of listings in Perth, and Darwin as well, has surged over the past year due to a decline in buyer activity.
Darwin has the biggest growth in property listing in Australia with an annual increase of 22.6 per cent and Perth recorded the second highest annual growth rate of 17 per cent.
Another indication of the softness in the Perth property market is that is now has the highest selling times for properties throughout Australia.
It now takes on average 85 days to sell a property in Perth, which is the longest selling period of any capital city in Australia, with only Darwin having a comparable average selling time of 82 days. To put that in perspective, the average selling time in Sydney is just 25 days.
In both these markets, astute property buyers are now able to secure prime properties at very competitive prices, which over the long term will prove a wise investment.
The large supply of homes in Perth and Darwin means that it is a great time for property buyers to achieve major price discounts and financial incentives from developers for properties located in prime locations.
Timing is critical in the property market and the best time to purchase prime real estate is when stock levels are very high and the competition from other buyers is very limited, which are the market conditions that currently exist in Perth and Darwin.
Read more:
Notorious spruiker in ASIC's sights again
Sydney price growth third highest in the world
New target for overseas investors
Why you should have 3 pre-auction prices
Housing construction has already peaked 
About the Blogger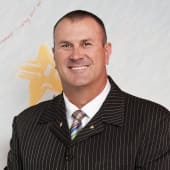 Shane Kempton is the inaugural Group CEO of Professionals Real Estate Group which has nearly 300 offices located throughout Australia and New Zealand.
Professionals have been operating in Australia for four decades and provide a wide range of real estate services to consumers.
Top Suburbs
Highest annual price growth - click a suburb below to view full profile data:
latest news