These capital city suburbs have achieved double-digit rental growth over the past year.
Blogger: Shane Kempton, CEO, Professionals Real Estate Group
One of the most significant trends in the Australian property market over the past year has been a slowing in rental growth rates.
Indeed, the latest CoreLogic rental figures for the last quarter show that the rate of rental growth has actually fallen in each Australian capital city.
This is due to a number of factors, including a surge in investor activity that has led to a large supply of rental accommodation, while at the same time low interest rates have enabled more people to leave the rental market and buy their own home.
The cities that were hit the hardest by this slowdown in the rental market include PerthPerth, TAS Perth, WA and Darwin, where rents have fallen by 5.8 per cent and 11.4 per cent respectively over the past year.
However, the property market does not move in a uniform manner and there are areas in capital cities were investors are still achieving above average increases in rents.
It may surprise some investors that CoreLogic figures reveal that a number of suburbs in capital cities have achieved double-digit rental growth over the past year, even in depressed markets such as Perth (refer to table below).
For example, the median weekly rent for a unit in the Perth suburb of Spearwood surged by 12.2 per cent over the past year, despite an overall fall in median weekly rents throughout the city of 5.8 per cent.
One of the star performers nationally was the Melbourne suburb of CremorneCremorne, TAS Cremorne, VIC Cremorne, NSW where the median weekly rent surged by 21.5 per cent over the past year even though the median weekly rent in Melbourne rose by just 2.1 per cent over the same period.
Rental growth is particularly important for mature investors who are looking to purchase high yielding rental properties that will help fund their retirement.
These figures highlight the fact that research is now very important in identifying the limited number of suburbs nationally that will deliver above average levels of rental growth.
Issues to consider when looking for suburbs that have the future potential to deliver high rental yields include the demand for rental accommodation in the area and future population growth.
Established suburbs that are undergoing urban renewal that will attract new residents and have limited housing supply offer the greatest opportunity for rental growth in capital cities.
Property investors should also take a micro approach to each suburb and identify what kind of properties are most in demand by local renters.
Top performing rental suburbs
(Source: CoreLogic)
About the Blogger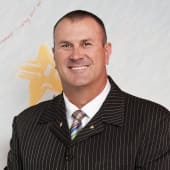 Shane Kempton is the inaugural Group CEO of Professionals Real Estate Group which has nearly 300 offices located throughout Australia and New Zealand.
Professionals have been operating in Australia for four decades and provide a wide range of real estate services to consumers.
Top Suburbs
Highest annual price growth - click a suburb below to view full profile data:
latest news