Tip 1: Identify your potential market
The most difficult part of investing is buying in the right place. This becomes especially true when investors open their search to the whole of Australia.
Directors of RESULTS Mentoring Brendan Kelly and Simon Buckingham urge investors to ensure "the numbers stack up" in any purchase.
"You don't have to be limited to home or away. The numbers in the deal speak for themselves," Mr Kelly says.
He believes investors could buy anywhere, "provided there is money in the deal".
Sam Saggers, CEO of Positive Real Estate, encourages investors to identify market patterns that connect elements within a region.
"People, places and consumer habits have synergies that underpin an area and the property within that place," he says.
"The idea is to understand the connection – the community trends."
Next, investors should consider the industry and economy of different locations.
"When you are buying a property in an area, you aren't just investing in the property market. You are making an investment into the various industries that support the people within the direct community," Mr Saggers says.
Finally, Mr Saggers urges investors to consider competitive tension; the idea that markets at different points in the property cycle can be played off against one another.
Darwin and Toowoomba are both similar in terms of size, with major infrastructure projects in the works. However, Mr Saggers points out that the median price in Darwin is $550,000, while the Toowoomba median is just $280,000.
This analysis can help investors identify areas with high potential.
Tip 2: Conduct background research
Before booking their flights, investors need to do their homework. Property author and educator Peter Koulizos encourages people to seek out factual, unbiased information on each potential investment location.
"Doing your own research means reading magazines and reports that have information on the suburbs you would want to invest in," he says.
Subscribing to local newspapers or council newsletters can give you additional insights into developments in that area, he suggests.
In Positive Real Estate's Sam Saggers' experience, a lack of preparation can be costly.
"I think it's always important that you do your research before you travel, otherwise it can be quite expensive to visit a place and then work out the due diligence after you've seen the property," he says.
Investors who arm themselves with independent research are also less likely to fall victim to misleading agents.
"Far too often, property investors rely on what the real estate agent is telling them," Mr Koulizos says. "They must remember that the real estate agent is working for the seller, not the buyer."
Some agents may even take advantage of the fact you are not local by trying to "offload the worst properties in the worst areas", RESULTS Mentoring's Simon Buckingham warns.
"If you don't know what's actually happening on the ground, you expose yourself to a lot of risk in terms of buying into an area that performs poorly or the exact opposite to what you expect," he says.
You have to recognise that the market in any town or suburb is dynamic, it's always moving.
Tip 3: Spot the differences
Regulations surrounding real estate, property and state taxes vary from region to region. Being aware of these variations can help investors avoid legal headaches.
As an example, contracts of sale have different terms and conditions in each state.
"In New South Wales, we use the term 'exchange' and 'gazumping', but in other places there are different systems. For example, in Queensland it's an 'offer and acceptance' process," Positive Real Estate's Sam Saggers explains.
When it comes to land tax, each state has its own set of thresholds and exemptions. Investors could get caught out if they do not research these requirements, property author and educator Peter Koulizos says.
"Investors who already have a fair bit of property may try looking interstate to minimise their land tax," he says.
"This is a state-based tax, so you could have eight properties in one state and pay tens of thousands of dollars in land tax. Or you could have one in each state or territory and pay no land tax."
Mr Saggers suggests consulting a local solicitor to ensure compliance with all state laws.
"Your family lawyer or someone you've worked with closely is, unfortunately, probably not going to be the right person in this situation. It's probably best to get local knowledge and use a local lawyer who knows the terms and conditions in that area," he says.
RESULTS Mentoring's Simon Buckingham also reminds investors that costs can change depending on where you buy.
"If you go into a property purchase basing your expectations of costs on what you were used to back home, you may be in for a rude surprise when you're investing in a town that's in another state or is in a remote area," he advises.
Council rates, water rates, insurance, property management fees and maintenance may all be more expensive, he warns, particularly in rural areas.
"It's essential that you get to grips with the numbers and don't just assume it's going to be like what you're used to back home," Mr Buckingham says.
Tip 4: Visit the area
Despite the wealth of information available online, RESULTS Mentoring's Brendan Kelly believes nothing can replace an 'in person' visit.
"Don't buy something on an unconditional contract, sight unseen," he says.
Investors should take their time exploring a town, booking a multi-day trip and not necessarily purchasing on their first visit, Mr Kelly suggests. When investors arrive, he encourages them to visit the local information office to gain an insight into different suburbs' reputations.
Next, Mr Kelly encourages investors to explore the city on their own, before contacting real estate agents.
"The agents can then drive you around to the properties you have already made enquiries about, and you can ask for information about what's happening in the area – what did properties sell for recently and why did they sell?" he says.
Insights gained on the ground can heavily influence investment decisions, property author and educator Peter Koulizos says.
"I want to check out the streetscape: what the street is like, what the housing is like in that particular street and what sort of people live in that area," he says.
Investors could also contact the police and ask about trouble spots in the region, he suggests.
On the other hand, Positive Real Estate's Sam Saggers believes buying a property over the internet is becoming increasingly 'normal'.
"The idea of buying sight unseen or getting involved in a property and then going to see it is the new way. People are just going to have to get used to it," he says.
However, he agrees seeing the property yourself can relieve the anxiety of buying from a distance.
"Once you think you've found the property you're pretty certain on buying, I'm all for going to see the property and getting to know it," Mr Saggers says.
If you don't know what's actually happening on the ground, you expose yourself to a lot of risk in terms of buying into an area that performs poorly.
Tip 5: Put together a local team
An owner who lives far away from their investment needs a reliable team to be their eyes and ears.
"There is a big difference between buying something without ever having gone to the area and having made an effort to go and establish local contacts to form your remote team," Simon Buckingham from RESULTS Mentoring says.
Being far away means putting additional trust in the people managing your investment, he explains.
In Mr Kelly's experience, the best way to identify high quality professionals is to get referrals from others in the industry.
"Good people, meaning good builders and good property managers, know and associate with other good people," he says.
"Their integrity and client service is important to them and they're not going to surround themselves with people who are just going to let the team down."
However, referrals may be hard to come by in a town where you have no contacts. An alternative is to get recommendations from local people.
"I would encourage investors to talk to locals who are dealing with people on a daily basis. Talk to the fish 'n' chip shop lady or the café lady about what's going on and the reputations of the real estate agents in the area. Ask who's great to deal with or who's a good property manager," Mr Kelly says.
He also encourages investors to set up as many meetings as possible.
"Real estate agents are fundamentally sales people and face-to-face works really well for them. If you want to build a relationship, you'll do so much easier face-to-face than by email or phone," he says.
Positive Real Estate's Sam Saggers advises the best property managers tend to be those with the highest Google results.
"The frontrunner, in my opinion, is usually someone who has the best web presence at the moment. A lot of tenants look online these days," he says.
Tip 6: Plan for renovations
Organising renovations is a stressful process, even without the added difficulty of being in a different state.
RESULTS Mentoring's Simon Buckingham says renovators will need to hire a project manager for larger projects, or enlist a property manager to oversee cosmetic touch ups.
"In either case, you're probably going to pay the person looking after the project some sort of margin or fee to do the work and you then need to be comfortable that the dollars in the deal wear that additional cost," he says.
Property author and educator Peter Koulizos believes interstate investments can be hard to manage if investors are not able to oversee the project themselves.
"I know some of my students have actually taken time off work during their holidays and have gone up to do the renovation," he says.
He has even considered paying for his own handyman to fly interstate to help with a project.
"You can trust them and sleep much better at night. That's a relatively expensive way of doing it but it certainly eliminates some of the risks," he says.
Tip 7: Keep up to date with changes
A major drawback of living thousands of kilometres away from your investment is not being privy to changes in the neighbourhood.
"You have to recognise that the market in any town or suburb is dynamic, it's always moving," Mr Buckingham from RESULTS Mentoring says.
"One of the challenges, if you're not local to the area, is that you don't recognise or understand that a change has occurred until well after it's actually happening."
He has seen streets that seem fairly quiet deteriorate within a few months if crime picks up or a gang moves in.
"You have no idea until at some point your property becomes vacant because your tenant is too afraid to live there anymore, and you struggle to get someone in," he says.
This is where the local team comes into play.
"You may not know what is actually occurring unless you have a very good team on the ground, including a great property manager to tell you what's going on with your street and your property over that period of time," Mr Kelly says.
Ultimately, investors who buy interstate should stick to the same fundamental principles that would apply if they bought the house next door.
"Australia has different markets working at different paces," Positive Real Estate's Sam Saggers says.
"I'd say investing interstate is a skill that everyone needs to learn."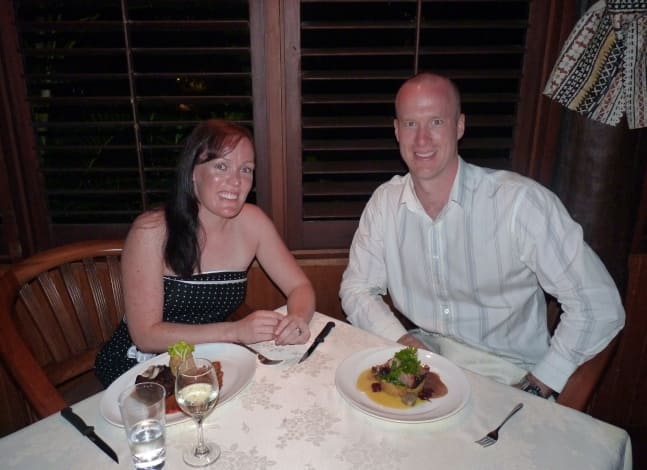 Investor Profile
Adam and Kelly Wixx
"We have four investment properties and just recently turned our home into a fifth. Three of these properties are in Queensland, in Townsville and Toowoomba.
We thought those areas were set for growth and they offered a suitable entry price.
We haven't actually seen the properties. Since we're not builders, it's not an absolute necessity that we see them. We get professional building inspectors and pest inspectors to go through the properties for us.
Our first interstate buy was actually only our second investment property, so we were quite nervous about buying sight unseen – but not enough to put a dampener on the purchase. We reassured ourselves that having professionals look into the property was probably the best way to go about it anyway.
The solicitor we used for all our property investments has a reciprocal agreement with a colleague in Queensland. They were both very active in explaining exactly what the different laws are.
I think the most important thing is to make sure you get good quality professional advice. You need to have professionals who are able to look through the property for you, who know what they're doing."