Australia is a land of extremes, of flood and fire, hail and drought. Most Australians can recall the names of the most deadly events: Cyclone Tracey, Ash Wednesday, Black Saturday. Yet smaller scale emergencies happen on a regular basis, whether scrub fires, violent storms or cyclone warnings.
While nothing can stop Mother Nature in her tracks, owners can take steps to minimise the damage to their investment properties.
Natural disasters around Australia
Wide-scale disasters occur frequently enough to pose a real risk to life and property.
The Insurance Council records that between 2010 and 2013, Australia suffered six major storms, five floods, five bushfire emergencies and a violent cyclone.
Each of these events caused between $35 million and $2.387 billion worth of damage.
Every state on the mainland is susceptible to severe weather events and dangerous electrical storms.
In dry southern regions like New South Wales and Victoria, the fire danger is especially high in the summer months.
Further up the coast, cyclones tend to hit northern Queensland, the Northern Territory and Western Australia.
Many properties situated near coastlines, rivers or other water bodies are at risk of flooding.
"No corner of Australia is immune from severe weather," CEO of Green Cross Australia and community safety initiative Harden Up Mara Bun says.
"In the history of our major capital cities, we have numerous cases of very unexpected big events that can happen quite quickly," she warns.
Every state on the mainland is susceptible to severe weather events and dangerous electrical storms.
Buying in disaster-prone areas
Evaluating the risk factors of a particular region or house may influence an investor's buying strategy.
Severe weather is an issue across the country, so all owners should consider how their investment property may fare during a violent storm.
As the tourism sector bounces back, investors are beginning to show interest in destinations like Cairns and Townsville. In these tropical locations, cyclones are an almost annual occurrence.
A key consideration when buying in cyclone-prone areas is location, NQ Buyer's Agent founder and licensee Jennifer Smith says.
"When you're thinking about a storm, there's the wind factor and the flood factor," she says.
Houses on top of a hill are exposed to higher wind strength than houses at the base of the hill or amongst other homes, she advises.
She also suggests investors check flood zones to ensure their property is beyond the high-water line of previous inundations. Building materials can also make a difference to a home's ability to withstand severe storms.
Newer homes in north Queensland tend to be built with steel rods reinforcing the masonry, or bricks filled with concrete, Ms Smith says.
Traditional Queensland homes also hold up well in extreme conditions, especially the properties raised on stumps, she suggests.
However, Ms Smith advises buyers to be wary of properties with fibro walls, cheap red brick construction or a flat roof. These elements can make a home vulnerable in a storm or cyclone, she says.
At the other end of the spectrum, investors should also think carefully before buying in high fire danger zones.
These areas are often also beauty spots, favoured for their proximity to nature. While neither Victoria's Yarra Ranges nor New South Wales' Blue Mountains are high growth areas, investors may be tempted by their long-term prospects or retirement potential.
Yet the natural landscape that makes the area appealing also makes it highly risky.
According to CEO of WBP Property Group Greville Pabst, investors may find properties in high fire danger areas difficult to turn over.
"As the weather heats up, properties in Victoria's Yarra Valley are on high alert, with local real estate agents refusing to list heavily timbered allotments with bushfire management overlays due to difficulties with selling the properties," Mr Pabst says.
These overlays can have a significant impact on land value. An overlay may prevent vacant land being developed, or prohibit certain types of renovations, Mr Pabst warns.
Town infrastructure should also be a consideration, he suggests. A community fire service, properly established road network and mains water connection can improve the likelihood of a fire being brought quickly under control.
Finally, topography can have an impact on the way a fire spreads. The Victorian Country Fire Service (CFS) advises bushfires travel faster uphill than downhill. Properties at the summit of a hill are most at risk from fire.
"Is the land or dwelling on or a part of sloping land? These properties can prove difficult to defend during a bushfire, particularly in heavily treed environments," Mr Pabst explains.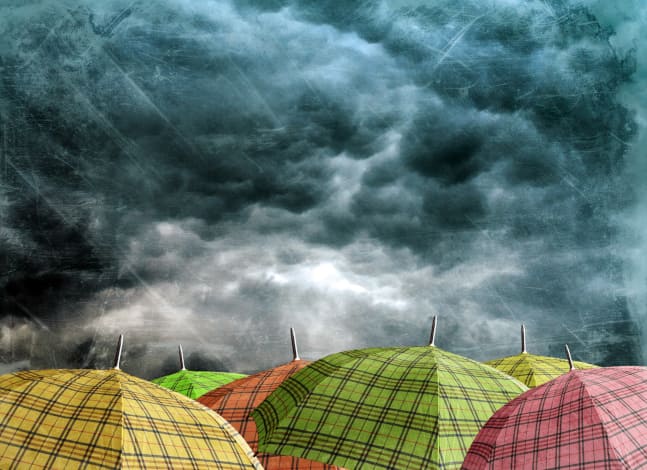 Protecting your asset
If an investor buys into a risk-prone area, certain measures can help minimise the threat of damage.
Before storm or bushfire season approaches, Ms Bun suggests owners thoroughly inspect their property for hazards. Undertaking regular checks around the house can make a significant impact on the home's resilience, she says.
"Clearing your gutters and making sure low-lying branches are removed will hold you in good stead both through severe thunder storms and a bushfire," she suggests.
Low-hanging branches and scrub around the property can be hurled through windows by high winds or add fuel to a fire, she says.
For severe weather, a key consideration is ensuring there are no large objects near the house that could be blown around.
"So often, attachments to homes – like porch roofs, car ports or screen enclosures – can be really damaged by strong winds. That in turn can set loose additional damage to the main part of the house," Ms Bun says.
Landlords should also ensure windows and doors close tightly and securely.
Researchers at James Cook University found garage roller doors were a weak point in housing construction. The research conducted in 2013 found that if the garage door is blown in, the entire structure may collapse due to increased internal pressure.
Furthermore, a damaged roof may allow water to seep into the structure or funnel wind pressure under the roof. Ms Smith advises owners to inspect the roof on an annual basis in preparation for storm season, checking for loose tiles, corrosion or other faults.
For bushfires, maintenance of the home and surrounding yard can help the structure survive.
Embers blowing ahead of a fire front can be highly dangerous, according to the Victorian Country Fire Service.
The CFS recommends owners prepare a 20-metre fire protection zone around their property that is clear of all flammable material, including dead branches, fallen leaves and long grass.
In particular, open areas under the house, gaps under windows, doors or cladding, or other areas where embers may be caught should be covered over with mesh, the CFS suggests.
Corina Bailey from Landlord Specialists says keeping the property clear of fuel is the landlord's responsibility.
"The other thing is to check water tanks on the property and make sure they're functioning, as well as hoses and tap fittings," she says.
Displaying a prominent house number can also help emergency services personnel identify the home and provide help, she says. While new homes in bushfire-prone areas must adhere to strict fire codes, existing properties can be retro fitted to provide greater protection, Ms Bun suggests.
The Australian Standard for the Construction of Buildings in Bushfire Prone Areas AS3959:3 (2009) can help owners understand fire safety measures.
Non-combustible fencing, solid core external doors, weather stripping around windows and other retro-fit techniques can decrease the likelihood of the home catching alight.
Insuring against disaster
Most investment properties are insured against damage. However, according to Campbell ¬Fuller from the Insurance Council of Australia, underinsurance is the major issue facing owners in Australia.
"The value you want to insure it for is the cost of rebuilding, plus the costs associated with any legal fees, council fees and all those additional costs," Mr Fuller says.
"The confusion arises because many property owners think the market value of the property is ¬the amount you should be insuring it for," he says.
Mr Pabst agrees, saying the numerous additional costs involved in replacing a property can leave owners out of pocket if their property is destroyed.
"Insuring a property based on the purchase price fails to recognise capital growth and ancillary improvements, such as renovations and undisclosed additions, increases in building costs including labour and materials, unforeseen expenditure to ensure compliance with new building codes and professional fees, as well as removal of debris and hazardous material," he says.
He recommends owners consult with a registered builder or quantity surveyor to gain a be er understanding of a property's replacement value.
During the Queensland floods in early 2011, many policies did not cover flood damage, partly due to a lack of consistency on its definition within the insurance sector.
The government has worked with the Insurance Council and insurers to remedy this situation.
"More than 90 per cent of all household insurance policies in Australia now have some form of flood cover," Mr Fuller says.
"People who own properties in flood-prone areas should still review their policies to make sure those policies meet their needs," he cautions.
As insurance policies are priced on risk, homes in more dangerous areas are likely to attract a higher premium.
Mr Fuller says property owners should take note of this risk assessment and act accordingly.
"It means that, firstly, the property owner pays a premium that is appropriate to the risk and secondly, it actually sends a bit of a signal to the property owner about what that risk can be," he says.
Any steps that are fulfilled to reduce the impact of natural disasters may be taken into account by insurers when calculating the premium, he explains. However, he says owners should also be aware that failing to maintain a property may impact on their claim.
"We are compelled to take common sense steps to protect our own assets," Mr Fuller says.
"What we're trying to say here is that insurance is a last resort. Insurance can't stop the damage but property owners can reduce the impact themselves, and that's a better option than having to make a claim," he says.
David Grabau from CGU Insurance warns landlords should also consider the consequences of natural disasters on their fittings and rental income.
"Severe storms can cause structural damage to a property, leaving it unable to be tenanted. Landlords need to assess if their insurance cover can meet their financial obligations and protect their investment," he says.
Many property owners think the market value of the property is the amount you should be insuring it for.
What if a natural disaster affects your property?
While minimising damage is important, in some cases the owner's best efforts are not enough to prevent property damage.
If an investor's property is affected, they should call their insurance provider as soon as possible.
"That way, you can talk to your insurer about how they can respond to a policy and what the insurer can do for a customer to rebuild, repair or replace items," Mr Fuller says.
Ms Bailey advises that, depending on the condition of the property, the tenant may not be able to return.
"If the tenants cannot live there, some emergency accommodation needs to be sought. But that would generally be the tenant's responsibility and at their expense," she says.
A West Australian client of Ms Bailey lost their investment property to a fire several years ago.
"Fortunately, they had a really good insurance provider and they were very much protected there," she says.
The tenants ended up moving back into the property after it was rebuilt and they continue to reside there.
She advises landlords to communicate effectively with the insurer and the tenant, and keep all parties in the loop.
"The communication between the landlord and the tenant directly was paramount in making sure the process ran as efficiently and smoothly as possible," she says.
Extreme natural forces are a part of the Australian experience. Investors cannot escape the reality that most homes are vulnerable to these risks. Taking steps to minimise damage can help your investment portfolio survive a natural disaster.
Most common natural disasters
| | | |
| --- | --- | --- |
| Disaster type | States affected | High risk times |
| Bushfire | NSW, VIC, WA, SA, ACT | September to March |
| Cyclones | Nth QLD, NT, WA | December to April |
| Hail | NSW, VIC, QLD | October to April |
| Severe storms | NSW, QLD, WA, VIC, SA, TAS | September to February |
| Flood | NSW, VIC, QLD, SA, WA | April to October |
Source: Insurance Council of Australia

Steps to protect your house
From fire:
Clean leaves from gutters
Cover openings or gaps in exterior of house
Create 20m fire protection zone
Ensure hoses, water tanks or pumps are working
From storms or cyclones:
Check property for loose attachments
Check roof annually
Ensure all windows and doors shut tightly
Install leaf guards and keep gutters well maintained
Install "cyclone-rated" garage doors
Source: Green Cross Australia