Tip 1: Think about your market
Successful renovation is about giving people what they want. Creator of Hotspace Renovations Jane Eyles-Bennett suggests owners make their plans with their future tenant or buyer in mind.
To work out their target demographic, owners should talk to local real estate agents, visit comparable open homes and identify facilities in the area, such as schools or employers.
"Once they know who their target market is likely to be, the next step is to work out what that target market wants," Ms Eyles-Bennett says.
If your property is near a primary school, you may attract young families who prioritise having a bath, enclosed yard and open-plan living spaces, she suggests.
On the other hand, a townhouse near cafés may attract a young couple looking for low-maintenance living with a stylish finish.
"If you are not that target market, then talk to someone who is and really get inside their brain," Ms Eyles-Bennett says.
By taking this approach, you can target your money at improvements people will be prepared to pay for, she suggests.
At the same time, investors need to avoid putting themselves in a niche, according to School of Renovating director Bernadette Janson.
"Don't make the style too personal. Make it something that will appeal to everyone or a large percentage of people who come to look at your place," she says.
Another consideration is comparable property prices. Ms Eyles-Bennett encourages investors to research the sales prices of similar properties in the same area that have already been renovated.
"Ideally you want statistics from RP Data as to what those properties have sold for so you have concrete evidence that your property can be sold or revalued for approximately that amount," she says.
Investors with a realistic sales price in mind are better able to create a reasonable budget, she says.
Tip 2: Stick to the plan
Over spending is one of the biggest dangers in renovating. A savvy investor will set an ironclad budget and see it through to the end.
Cherie Barber from Renovating For Profit suggests a cosmetic reno will generally cost around 10 per cent of the property's purchase price.
"So if you buy for $350,000, your total cosmetic renovation budget should be $35,000," she says.
These amounts can then be broken down room by room. As a general rule, Ms Janson suggests spending around 1.8 per cent of the purchase price on the kitchen, 1.5 per cent on each bathroom, one per cent on floor coverings and 1.5 per cent on interior and exterior painting.
"When you do that, you can see how controlled you have to be with your costs. If you want to spend more money in one area, you would need to pull back in another area," she suggests.
Ms Eyles-Bennett encourages investors to work out their budget before deciding what work needs to be done.
"It's about working out how much I have allocated and what I can do for that amount of money rather than the other way around," she says.
If renovators have limited funds, Ms Janson suggests staggering the work over an extended period of time.
"I would say if they had less than 10 per cent, they would be looking at things like using second-hand materials or spacing it so they could do it as their funds were available," she says.
For these renovators, planning is more important than ever.
"When you're doing that, you really need to get your plans set out up front. If you just go along doing it piecemeal, you end up with a bit of a hodgepodge and it doesn't add as much value as it could," she warns.
Don't make the style too personal. Make it something that will appeal to everyone.
Tip 3: Look for alternative sources for materials
While nipping down to the hardware store for supplies is an easy solution, investors may get better deals by looking further afield.
All our renovation experts suggest sourcing suppliers online, particularly on eBay, says Ms Janson.
"I don't necessarily buy from them but that's where I find suppliers that are pricing keenly because they want to build up a market," she says.
"I then go to their showroom and order from them direct."
In her experience, a majority of high-end bathroom fittings are manufactured in China. Online importers frequently offer similar designs, including the same warranty, at more affordable prices.
While Ms Barber also suggests online channels, her other money-saving secret is attending renovation auctions.
"You can pick up new materials for a fraction of the price," she says.
In addition, Ms Barber believes buying in bulk tends to be cheaper than buying individual lots.
"It's about being smart about how you order your materials and in what quantities," she says.
Ms Eyles-Bennett encourages investors to search for bargains but warns some "solutions" may cause more trouble than they are worth.
"I'm not really big on buying second-hand because I think a lot of the time you spend as much money and time making it fit as you save," she says.
"Someone says 'I found a second-hand kitchen online for $500', which is great, but they probably don't say it took them three weeks to get it fitted."
Tip 4: Work with what you already have
Rooms like the kitchen and bathroom can cost the owner a fortune due to their many fixtures and fittings. However, superficial touch-ups can often transform these rooms with little outlay from the owner.
"People are really scared that if they don't pull out the kitchen and start again or completely strip the bathroom the overall aesthetic end result might be compromised," Ms Eyles-Bennett says.
"But if you know what you're doing and you can visualise the end result, you can often use what's there already."
In the kitchen, Ms Janson says the original cabinetry is usually made to last for decades. Salvaging these built-ins can save investors a substantial sum of money.
From a cosmetic standpoint, the bench top will make the biggest impact on the overall aesthetic of the kitchen.
"Bench tops are really important because they really hit you in the eye when you go into the kitchen," Ms Janson says.
She suggests a new finish can renew a tired bench top at a low cost. For a slightly more expensive solution, investors could have caesarstone veneers fitted.
"It looks like a brand new caesarstone bench when actually it's the original one done up," she says.
Cosmetic changes such as painting or updating the cupboard doors can make these fixtures look as good as new. Handles can also be resprayed with metallic paint or replaced at a fairly low cost.
Ms Barber encourages investors to look at DIY fixes like laminate paint and bench top resurfacing kits to modernise the look of older kitchens.
"Quite often it helps if you apply new lino or a product like Gerflor, which are vinyl self-adhesive floor planks," she says.
In the bathroom, it's a similar story.
"The shower screen… that's a big thing that can be changed," Ms Janson says.
New shower curtains or even a frameless shower screen are cheap but change the room's entire feel. Respraying the shower frame with waterproof metallic paint can also make the room feel fresh.
"The thing is to try and avoid having to change things like the bath because it's usually bricked in and you've got water-proofing issues," Ms Janson says.
Ms Barber says resurfacing products can be an investor's helping hand, particularly for touching up old-fashioned tiles and discoloured baths. She also tries to incorporate larger mirrors to enhance the bathroom's appeal.
"Mirrors help bounce light around the room, making the room appear bigger," she says.
If investors want to spend slightly more, Ms Eyles-Bennett suggests replacing the counter top and buying a new sink.
"It's often not about replacing something necessarily. Maybe you can conceal it, maybe you can tweak it, maybe you can create another focal point in the room," she says.
You really need to get your plans set out up front. If you just go along doing it piecemeal, you end up with a bit of a hodgepodge.
Tip 5: Fix up the walls and floors
As well as being fairly affordable and easy to DIY, painting can have the greatest impact on the feel and appearance of a property.
"It totally transforms a house if you can give it a paint scheme throughout, inside and out," Ms Janson says.
She recommends a neutral, modern colour scheme likely to appeal to a broad range of buyers. Greys are particularly popular at the moment, although she suggests keeping to the lighter end of the spectrum.
Ms Bennett-Eyles believes investors with limited money or time could just repaint the trims, like skirting boards, doors and window frames.
"Rather than slapping some paint up on the walls because you haven't got time to do it properly, leave the walls and just do the trims. But do the trims really well," she says.
Flooring can also have a significant impact on how welcoming the property appears. Ms Barber always recommends ripping up old and tired carpets. In their place, she favours polishing or replacing the floorboards.
"When you use carpet it actually tends to make your room look smaller. A hard surface like floorboards is much warmer, more buyers prefer it, and it also makes the property look bigger," she says.
Tip 6: Don't neglect the exterior
Renovators can sometimes be so focused on making their property attractive from the inside, they forget about the outside.
"I think if you're going for a revaluation or sale, the exterior is very important and probably underestimated," Ms Eyles-Bennett says.
She often sees people throwing their money into kitchens and bathrooms with little left over for the garden or facade. Yet the outside of the property is the first thing buyers and tenants will see.
"It's really important to spruce up the front facade. Street impressions are first impressions as well," Ms Barber warns.
Her recommendations include landscaping, trimming back plants, adding mulch to garden beds and painting pavers and driveways. Exterior painting can also be valuable, though she prefers a subdued colour scheme.
However, Ms Eyles-Bennett says if the investor is planning to hold the property, the budget for external renovations could be more limited.
"As a general rule, you get your yield increase from renovating the interior and then you get your capital increase from renovating the exterior," she says.
It's about being smart about how you order your materials and in what quantities.
Tip 7: Hire the right person for the job
TV renovation shows often make do-it-yourself solutions seem easy. However, while DIY might save you money in the short term, in the long term it may lead to disaster.
Ms Janson says modern buyers are savvy and quick to spot shoddy craftsmanship.
"Doing an amateurish job is not really going to add a lot of value to your house, so you need to make sure the quality of the workmanship is right up there," she says.
In her experience, tradespeople can generally do the work faster, more efficiently and to a more professional standard than the average investor.
"Nobody that's not a tradesperson can have the level of experience that a tradesperson has," she says.
Ms Barber suggests investors need to recognise when work is above their skill level.
"It's about being smart enough to know which work you can do and which work is best left to the professionals so you don't sacrifice quality. Otherwise what happens is your property looks dodgy, and that can actually devalue your property," she says.
Renovators keen to pitch in can save money by helping out with labouring tasks.
"Most homeowners can rip out their own kitchens, they can rip off the skirting boards, they can take down the old blinds, they can rip up the grungy carpets themselves," she says.
While not particularly glamorous, taking on these tasks yourself can shave thousands off your budget.
Working with the existing property rather than trying do a total overhaul is the easiest way to save money when renovating. When done correctly, cosmetic renovations can pay for themselves in capital growth and increased yield.
Investor profile
Mirandah Donohoe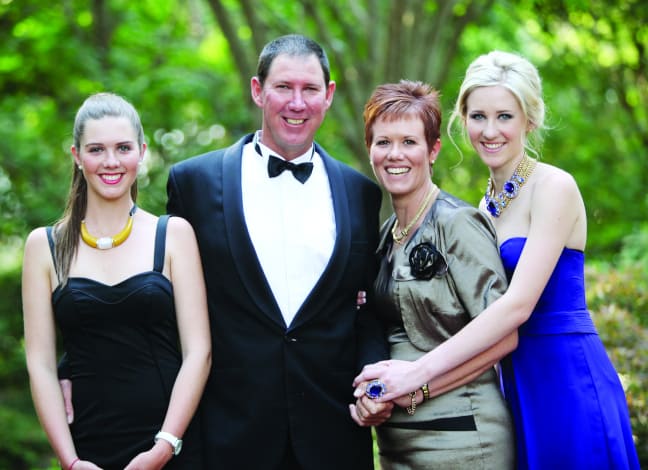 "My husband and I have bought quite a substantial amount of property over the last 15 years.
We did a cosmetic renovation on the first property we purchased. We didn't know much at all; we just went ahead and did it, but it was very successful. We got it valued afterwards and a $10,000 cosmetic reno lifted its value by about $50,000.
Next we bought a property up north and did a full structural and cosmetic renovation, turning a two-bedroom into a four-bedroom property with a swimming pool. We just did what we could afford, doing a lot ourselves and getting tradesmen to help us.
Then we saw Cherie Barber speak and we knew renovating was something we wanted to do as a business. We signed up – the whole family.
We've just finished our first one and it's auctioning soon. The next one is half-way through and we have three more in the works.
There were teething problems with assembling our team of tradespeople. Now that we're half-way through our second renovation, we're much better at organising our schedule of works.
My advice would be to be onsite as much as you can, or engage somebody who has a key role in holding the whole show together while it's happening."
Top Suburbs
Highest annual price growth - click a suburb below to view full profile data:
latest news