Perth home sellers should focus on the three Ps of real estate marketing.
Blogger: Shane Kempton, CEO, Professionals Real Estate Group
With the number of homes listed for sale jumping by 45 per cent to more than 16,000, property sellers in Perth have to take a more professional approach to selling their home.
Price, presentation and promotion are the three Ps that property sellers have to focus on if they want to achieve a pleasing sales result.
The hard fact is that the real estate market has gradually shifted over the past two years from a seller's market to a buyer's market due to a building boom and a decline in population growth.
Two years ago, most real estate agents could have sold an average home within a relatively short period of time because of a tighter supply of properties for sale and high demand from property buyers.
Today, the realities of the real estate market are different, with it now taking an average of nine weeks to sell a home in Perth.
If you are considering selling your home, then the first key issue to consider is the price of the property.
A key reason why more properties are staying much longer on the market for sale is that the owners have overpriced their home and they eventually sell the property after making a downward adjustment on price. The test of a good local agent is that quite often they will not list an overpriced home.
Property owners should also ensure that their home is extremely well presented to ensure that it competes favourably with other homes in the same price bracket. A key factor in the presentation of a home is its front garden, as this is the first thing buyers will see. Well-presented front gardens give property buyers the impression that the internal and rear area of the property is also well presented.
The third area that property sellers should focus on is promotion. The property has to be widely marketed in the current housing market to make as many buyers as possible aware that the home is for sale. This marketing campaign should include newspaper and internet advertising.
When considering these critical issues of price, presentation and promotion, home sellers should use these three criteria when selecting a real estate agent by selecting an agent who will give them professional guidance about the key aspects of selling a home.
Property owners should select a local agent who has a proven track record in selling homes in their local area and has the latest information on house sales and a large data base of potential buyers.
About the Blogger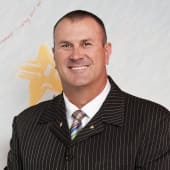 Shane Kempton is the inaugural Group CEO of Professionals Real Estate Group which has nearly 300 offices located throughout Australia and New Zealand.
Professionals have been operating in Australia for four decades and provide a wide range of real estate services to consumers.
Top Suburbs
Highest annual price growth - click a suburb below to view full profile data:
latest news