One of the most significant trends in the Perth real estate market over recent years has been the growing demand for apartment living.
Blogger: Shane Kempton, CEO, Professionals Real Estate Group
This trend is set to increase because of the 'population clock' that is resulting in more baby boomers reaching retirement age.
Despite concerns there could be an oversupply of apartments in some areas of Perth, the long-term outlook for this asset class remains positive in Perth due to changing demographics in our society.
Retiring baby boomers favour apartment living because it offers a low-maintenance lifestyle. The number of retiring baby boomers in Western Australia is set to accelerate rapidly over the coming decade.
For example, almost one quarter (23 per cent) of Western Australians will be aged 60 years and over by the year 2021, compared with just 15 per cent in 2001. 
Traditionally, apartment developments have been concentrated in the inner-city area of Perth. However, in recent years there has been a growth in the number of apartment developments in the outer suburbs of Perth, such as Midland, Joondalup, Clarkson, Beeliar and Rockingham.
Professionals is finding that retiring baby boomers want to buy an apartment close to the area where they currently live because they are familiar with the area and have a network of friends and family in the local area.
This desire by baby boomers to retire close to their current owner-occupier home will drive the demand for apartment living in the more established suburbs of Perth in the coming years.
Financially it is also an attractive option for baby boomers to move into a new apartment since they do not have the maintenance costs associated with an older property, and at the same time can generally sell their existing home and retain a significant profit after buying a new apartment.
In particular, there will be a growing demand for quality apartment developments with units that have been fitted out to a high quality and are also spacious. Recent sales of apartments to baby boomers by Professionals indicate that while they may be downsizing, these property owners still want a high level of privacy and do not want to compromise on quality.
The underlying demand for apartment living in Perth was highlighted by the fact the median price of units/apartments performed reasonably well during the past year despite an overall market correction in the real estate market. The median price of a unit/apartment in Perth now stands are around $427,000 compared to $440,000 a year ago. 
Anyone who is buying an apartment for lifestyle reasons should consider the choices carefully. Location, location location will always be the key driver of any class of property and this should be a key consideration when buying an apartment. Other issues to consider are views, level of roadside noise, strata fees, rules regarding ownership of pets and number of renters in the development.
About the Blogger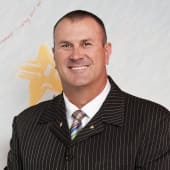 Shane Kempton is the inaugural Group CEO of Professionals Real Estate Group which has nearly 300 offices located throughout Australia and New Zealand.
Professionals have been operating in Australia for four decades and provide a wide range of real estate services to consumers.
Top Suburbs
Highest annual price growth - click a suburb below to view full profile data:
latest news