A gradual decline in new home building starts in Western Australia suggests investors are seeking established properties.
Blogger: Shane Kempton, CEO, Professionals Real Estate Group
Over recent months, the balance in the property market has moved in favour of first home buyers wanting to buy an established home rather than building a new one.
Established homes are proving more popular with first home buyers because established home prices are very competitive.
This trend has been reflected in a gradual decline in new home building starts in Western Australia over the past year.
The reality is that first home buyers can now pick up some great bargains in the established housing market and many younger buyers are doing exactly that.
In new housing estates in areas such as Ellenbrook, Baldivis and Secret Harbour, you can now buy a nearly new established home for under $400,000.
When first home buyers take into account the additional costs of building a new home, such as renting while it is being constructed and the costing of fitting it out including issues such as carpets, window treatments, internal painting as well as installing a swimming pool, air-conditioning and outdoor living areas, then buying a nearly new home with all of these features is proving financially more attractive.
Professionals is finding that near new homes built prior to 2006 are offering the best value for money for first home buyers because their owners built these homes before the last big property boom and are therefore able to discount their selling price.
Anyone who is considering buying an established property should focus on the location of the property as much as the price because the location will determine the long-term capital growth of the property.
A good tip is to buy a near new home in a well-located housing estate that has nearly been completed. The lack of new building land will give a scarcity factor to the property and help to drive up prices moving forward.
In contrast, properties in new housing estates where there are lots of vacant nearby land may not achieve the same level of capital growth because new building land is not scare and land developers may decide to discount prices which will impact on established house prices.
In popular first home buyer areas such as Rockingham, for example, it is worth considering buying an established home west of Ennis Avenue, because new building land in this location is nearly exhausted and as a result house values should rise in value over the longer term, especially as new homes are being constructed in more inland areas.
The same principle applies in the northern suburbs, with established houses west of Wanneroo Road benefiting from greater urban development in more inland areas which places a premium value on properties closer to the coast over the long term.
About the Blogger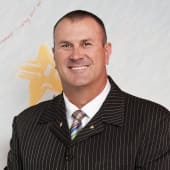 Shane Kempton is the inaugural Group CEO of Professionals Real Estate Group which has nearly 300 offices located throughout Australia and New Zealand.
Professionals have been operating in Australia for four decades and provide a wide range of real estate services to consumers.
Top Suburbs
Highest annual price growth - click a suburb below to view full profile data: