It's what every investor and homebuyer is on the lookout for — an up-and-coming suburb that you can buy into for cheap with returns for years to come.
Blogger: Shane Kempton, CEO, Professionals Real Estate Group
But growing suburbs aren't always easy to pinpoint. Sometimes it can be a bit of a gamble trying to figure out whether the suburb you buy in now will be more desirable in the years to come, particularly as a lot of suburbs that boom or gentrify are the ones that start off with a less-than-desirable reputation.

But as the demand for property continues to grow around the country, particularly in Melbourne and Sydney, middle and outer suburbs that were once daggy are now highly desirable places for families and coffee aficionados alike.

In fact, sometimes you can spot the next suburb to boom by the quality of the cafes and restaurants in the neighbourhood.

Another tell-tale sign is the amount of homes you see being renovated as you wander around the neighbourhood. As property prices start going up, people start heading in and lifting the quality of homes in the neighbourhood too.

People are getting priced out of a lot of inner-city suburbs and so are forced to look further afield where property is more affordable, but if the area has all the right fundamentals in place and is next to an area that has already proved to be popular then it will likely catch up too.

A classic example is Sydney's Marrickville. What was once considered a rough suburb, Marrickville is now the poster child of gentrification with an influx of young professionals and established families moving to the area, as well as popular shops and restaurants.

What was once a suburb that people bought into for its affordability factor now has a current median house price of $1,240,000, according to CoreLogic RP Data.

A few ways to spot a suburb that is set to be the next property hot spot

- The suburb borders highly desirable suburbs with a much higher price tag.
- All of the fundamentals are in place i.e. the suburb is close to main hubs, has access to public transport and other amenities.
- New developments or infrastructure upgrades are set for the area. For example a new dining precinct, shops or recreation areas.
- Properties don't last on the market long and open homes are extremely busy.

Sometimes the best way to find an up-and-coming suburb is to chat to local real estate agents who will be the first to notice when a suburb starts to heat up. They will notice the increase in property queries and the busy open homes very quickly.

But make sure you're quick to find the next hotspot, because once people start to realise the increasing popularity of a suburb, it's not long until prices start going up to match the suburb's newfound demand.
About the Blogger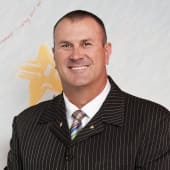 Shane Kempton is the inaugural Group CEO of Professionals Real Estate Group which has nearly 300 offices located throughout Australia and New Zealand.
Professionals have been operating in Australia for four decades and provide a wide range of real estate services to consumers.
Top Suburbs
Highest annual price growth - click a suburb below to view full profile data:
latest news