If you're an off-the-plan investor you may have noticed a downslide in the number of one-bedroom apartments available to you, and there are a few reasons why.
Yes, two is better than one in most cases, but particularly so it seems, in the off-the-plan apartment market of 2016.
Given the strength of the residential market and its relative affordability, we are seeing buyers shift their focus away from one-bedders to slightly larger apartment models that offer greater flexibility, better lifestyle choices, rental yields, resale values and more.
Of the 50 developments Marshall White Projects have successfully worked through in the three years since inception, the percentage of one-bedroom apartments within each building has typically ranged from 15 to 50 per cent.
Meanwhile we've also encountered inner-city or inner-fringe developments where the percentage of one-bedroom apartments proposed has been as high as 80 per cent.
This isn't surprising when you consider that any remaining stock within a development is likely to take the form of a one-bedroom apartment, with or without car parking. These are usually accompanied by incentives, rebates, discounts or other such "hooks", which resonate well with the price sensitive, one bedroom buyer, but are almost counterproductive towards the resurgent "empty nester" or "downsizer".
From a developer's perspective, an abundance of one-bedroom apartments also inhibits a project's ability to substantially grow prices during the various selling stages and maximise a development's yield.
There are a number of reasons why the one-bedroom buyer, most commonly a single professional, has recently resisted buying – namely the adjustments to the first home buyers grant and the challenges associated with for a single income purchaser gaining finance approval (both local and offshore and particularly within the CBD).
With these roadblocks removed, these buyers are instead facing greater choice than ever with the amount of stock hitting the market and comparative developments popping up all over the city. With competitive pricing and financing options now available, what we have noticed is that these very same buyers are stretching their budgets and distance from the city slightly further and investing instead in a now obtainable two-bedroom, two-bathroom model. Within the Marshall White Projects world, the affordable two-bedroom, two-bathroom apartments, (i.e. those within the $550,000 - $650,000 price range) are not only highly profitable from the developer's point of view, they are the safest bet for a purchaser.
Dominating market share, 63 per cent of all buyer enquiry is for this typology for local and offshore investors as well as owner occupiers proving the two-bed, two-bath is the overwhelmingly favoured middle ground.
From a 'days on market' perspective, we often (preferably at a pre-planning stage) request architects limit the number of one-bedroom apartments and ensure they make up no more than 3 - 5 per cent of the overall product.
For example, of the past 11 developments launched by Marshall White Projects since July this year, nine have ruled out one-bedroom apartments altogether, yet all of these projects still sold out at a very acceptable rate and at a higher than forecast yield.
We aren't alone in advocating for the two-bedder either, with many financial and property advisers also steering investors and owner occupiers alike towards these apartments as they are proven to garner higher capital yields and significantly lower vacancy rate than their one-bedroom counterparts.
It's a familiar story, one Goldilocks can all too easily relate.
We've reached the point where the one-bedders that dominated the Melbourne market for years are now seen to be too small (queue apartment standards and future planning moves to emulate Sydney's 50-square-metre minimum internal space for one-bedders) and we're also coming to realise that whilst these lavish three-bedroom apartments at the other end of the spectrum are in some cases as grand as any house, they still only account for 27 per cent of total buyer demand.
And so we find ourselves looking to the two-bedroom, two-bathroom model as a solution that feels just right.
About the Blogger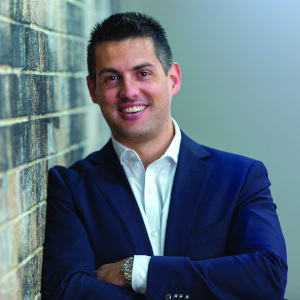 Leonard Toplin is the Marshall White Projects Director. Having grown up in South Africa and then spent several years in Portugal Leonard has developed an instinctive appreciation for the diversity of inner Melbourne communities and housing styles. Known for his ability to create sales at the highest level. Over the last decade, Leonard has been involved in some of Melbourne's most iconic and successful off the plan residential developments. Leonard's extensive experience in the real estate industry and particular expertise in the inner urban residential property market, has seen him in demand with some of Australia's largest public and private companies. His strength in establishing a global agent and referral partner network has set him apart.
Top Suburbs
Highest annual price growth - click a suburb below to view full profile data:
latest news