White property noise is a big issue for fresh-faced investors, as it can be extremely overwhelming, stressful and hindering to the progress of their investment journey.
Blogger: Paul Wilson, Educating Property Investors, We Find Houses and We Find Finance

My definition of white property noise: a mixture of opinions, commentary and speculation, often conflicting, about all aspects of property investment.
In some cases, would-be investors give up before they even get started, purely because it's just too much.
It must be said that new investors are not alone in this respect; seasoned investors are also affected to varying degrees by day-to-day reports of how the property market is performing.
But it seems that lately, investors have become immune to Australian white property noise, or have at least chosen to ignore it and base their decisions on cold, hard facts and figures.
The latest Smart Property Investment/PIPA Property Investor Sentiment Survey indicates that despite talk of property bubbles and concerns that property price growth is unsustainable, confidence in the Australian property market remains high.
According to the survey, 80 per cent of investors believe now is a good time to invest in property, and 68 per cent are looking to purchase within the next six to 12 months.
Low interest rates continue to play a big part in investors' confidence and activity, with 30 per cent of investors citing this as a reason to buy in the current market.
Confidence aside, we are more connected than ever in terms of technology and up-to-the minute data being readily available, so it poses the question: How do you screen out the white noise and find balance in what's being said?
- Find someone with property investing experience in whom you can trust
Forget the news stories, forget the opinion pieces – find someone that you know, who has experience in property investing, and consider them as one of your most valuable assets. This person shouldn't have any personal involvement in your investments, e.g. your mortgage broker or real estate agent. While these industry experts are a valuable resource for their specialised advice, they could also be perceived as having a conflict of interest, even if their intention is for discussions to be more neutral in nature.
- Limit your reading
Yes, you read right. To get a better understanding of where the market is heading, limit your reading of property news and opinion pieces. This advice is for investors who stay up till 2am trawling through that day's reports. Instead, get your daily dose, be happy with it, make your own evaluation and move on. On the other hand, start reading reputable sources that produce statistics and data only – that way, you'll have no choice but to make your own comparisons and evaluations on previous data. You can also become a tech-savvy investor by creating Google Alerts to have specific information delivered to your inbox, eliminating your search time and only reading what you want to.
- Take a step back
This doesn't mean stop investing – it simply means take a look at the bigger picture. As an asset class, investment properties should be held for a medium- to long-term period. Yes, in a micro analysis of markets, there will be troughs and peaks, some larger than others. But when we step back and look over a 10-15-year period, history shows that there is a higher level of stability. It also demonstrates that those who really miss out are the ones who hesitated on taking any action at all or who set their expectations in a time frame that had a greater chance of letting them down. We're all guilty of getting caught up in the minute details, so try not to over-analyse or sweat the small stuff, because it (by it, I mean opinion) can change overnight.
This post originally appeared on www.wefindhouses.com.au
About the Blogger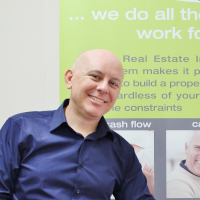 Paul Wilson is an Independent Property Investing Expert who's been educating and coaching investors since 2001. Author of 7 Deadly Mistakes Property Investors Make and How to Avoid Them, he also manages www.educatingpropertyinvestors.com.au, www.wefindhouses.com.au, and www.wefindfinance.com.au. 
Through his books and websites, Paul provides valuable, independent guidance and support by teaching strategies on how you can invest successfully, while protecting yourself from the common mistakes that trap many investors from reaching their full potential.
Paul doesn't promote cookie cutter strategies, instead he demonstrates how you can create wealth as a property investor regardless of your budget, location, strategy and risk profile. Paul makes his home on the Gold Coast and spends his leisure time enjoying adventures, surf and sun with his wife and five children. Protect and grow your portfolio with knowledge. Contact Paul today for a complimentary consultation: 1800 690 890 and ask for Paul, or email [email protected]
Top Suburbs
Highest annual price growth - click a suburb below to view full profile data:
latest news