If you have a property located on a sloping block which leaves you unable to do much with the existing space, then this information may be just what you need to get a bit creative with your property.

Blogger: Paul Eslick, Justin Eslick & Geoff Doidge, The Reno Kings
Nearly everyone would have heard of retaining walls at one time or another but have you thought this may be a quick and easy solution to your sloping problems?
A retaining wall could be the simple answer to so many existing landscaping problems, which could in turn cause delays for any DIY projects you have planned such as patios or carports. Certain types of retaining walls can be a job that could easily be done yourself, just a little bit of elbow grease and the basic knowledge to get you started and you could be on your way...
Functional retaining walls and decorative retaining walls are 2 of the most common types of walls to build. A functional retaining wall is generally built for structural purposes and should not be attempted by the amateur.
If your property has a sloped yard a retaining wall would need to be erected to level out the area before you can add structures to the space. A retaining wall can also aid in supporting a driveway or a pathway. A retaining wall adds different levels to a garden, which can have its advantages for both functional reasons and decorative reasons.
A retaining wall for decorative purposes only is sure to add character to your property, they can be used to bring attention to garden features, flower beds or they can be a base for a fence or a seat – this could be a means to add street appeal or create an outdoor courtyard or living space which is usually much valued by tenants.
When it's time to choose materials to build a retaining wall there are a few things that need to be taken into consideration. Because retaining walls quite often have to support a large amount of weight, adequate drainage should be provided. The added weight of water build up could cause an improperly constructed wall to collapse which could be hideously dangerous, and end up being a costly exercise to have to clean up and erect again!
Commonly, stone or concrete are great materials for building sound retaining walls. Stone walls are perfect for decorative purposes and they are also very durable and long lasting. Wet stone walls are great for structural walls and are definitely strong enough to hold large amounts of dirt. They are fixed with mortar and other fixatives whereas dry stone walls are just placed together without any fixatives being used so not as stable as the wet stone walls. Concrete walls are also durable and long lasting, given that they are exposed to lots of moisture and soil, concrete is also a very safe option.
Brick retaining walls are strong and will withhold the test of time, however if the foundations aren't right movement may cause a great deal of damage to the wall. Falling brick walls kill people, so make sure you get this engineered right to start with.  Bricks can also end up being a more expensive option depending on the size of the wall you are building. 
Timber retaining walls are a much cheaper option but will not last as long as other methods. When choosing a timber you will need to ensure the timber is suitable for the soil and if the timber is cut to size the ends will need to treated to ensure termites don't eat your wall before your very eyes.
Armed with this knowledge you will now be able to make an informed decision on whether or not a retaining wall is the right option for you. Next week's edition will provide helpful information on Government Legislation for all states of Australia and restrictions that may apply.
---
About The Reno Kings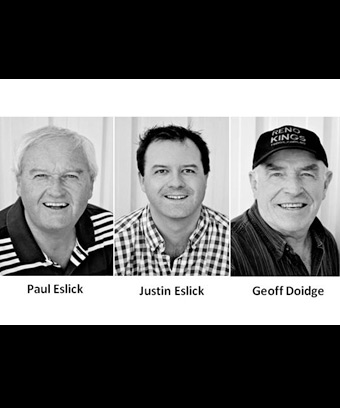 "From over 70yrs combined experience & $40million in property holdings, Reno Kings Paul Eslick, Justin Eslick & Geoff Doidge show you how to make money in property."
The Reno Kings have been successful in property for over 35 years – and it hasn't been by taking risks!  And for 12 years now they've been showing people from all over Australia how to buy exceptional property deals, cleverly add tremendous value to residential properties through cosmetic renovation and development and to safely and successfully create wealth by building a property portfolio. 
Justin has been teaching alongside Geoff and Paul for the past 5 years and his town planning and professional buying skills are so very powerful that they won't touch a property without Justin first giving it the 'go-ahead'.  Others have come and gone, but the Reno Kings have always been there, powering along, using their safe and secure formulas to build up $40million worth of property.  Thriving – not just surviving – through 35 odd years of property cycles proves that what they're doing is right!   And that's why they get so many questions from property investors and why the media always go to them for help on property and renovation stories.  The Reno Kings are the trusted name in property education.
Top Suburbs
Highest annual price growth - click a suburb below to view full profile data:
latest news