As human beings we have a bizarre ritual. During the first few days of the new year, probably still drunk or hung over, we tend to plan our life and our life results for the year! We give it a catchy name such as "my new years resolutions" and promptly break them as we are sobering up. Of course the reason is that our resolutions are generally just a wish list with no real commitment or process behind them.

Blogger: Victor Kumar, Right Property Group

Each year, between Christmas and New Year, I sit down and put my thoughts on paper with what worked and what I would like to improve in the  coming year. I base it around health, wealth, spiritual and of course family. Then in the first week, I find some quiet time and start putting pen to paper on what my goals are for each area... .and there can be more than one goal in each area.This is my version of a new years resolution.
I then take each goal and further expand it to decipher the REASON for the goal. This gives it meaning and significance, otherwise it is again, just like any new years resolution, where 95% of them are broken within the first week!
It is important to understand that reasons come first, then come the answers, ie on how to achieve it. Most, and I am guilty of this sometimes as well, try and get to the answers without having the compelling reasons as to why you are trying to achieve this goal.
Once that is done, I then break it down to action steps that need to be taken to get to this goal. For example, one of the most common new years goal is to invest in property. Action steps for this, assuming the goal is clear and tangible, would be to perhaps explore how you can leverage your time by engaging buyers agents such as Right Property Group to help you locate  and negotiate  a suitable property. Then you may decide to educate yourself on how to leverage off these assets to build a substantial property portfolio in line with your wealth goals.
The reason I am sharing this with you is that I work in a consultative role , using investment property as the vehicle to help my clients get to their individual goals, a buyers agent with proven results if you will. Each year, I get inundated with calls from people who have been following my Tuesday fortnightly property forum at Parramatta Rydges, or after reading about my clients results in property investment magazines such as Smart Property Investment, yet the common thing shines through, most have not thought through of what they are really aiming for when investing in property, and therefore, without the right guidance, end up buying the wrong property, or are "sold to" in seminars, where everything appears to be sugar-coated.
When you have set up your goals the right way, you are activating your brains Reticular Activation System (RAS). You would all be familiar with noticing many cars exactly of the same colour as the one you have just bought, that seem to pop up out of nowhere. Of course they have been around before you bought your car, its just that you hadn't tuned your brain to notice them, the old RAS!
The same will be true when you have set up your goals and are starting to implement the action steps...opportunities will start jumping out at you....or you will start noticing people around you doing things that are similar or in line with what you are doing. If it is property or knowledge about property you are after as part of your goals for this year, contact my office to be on the mailing list for alerts on when the next property get together is, they will be kicking off on the 5th of February. If you are out of Sydney, there are DVD's available of the sessions.
About the Blogger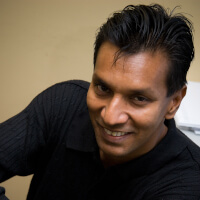 Nearly 15 years ago Victor and his wife came to Australia from Fiji with just $4,500 in their pockets. They worked hard as radiographers but realised this was not the way to prosperity. Victor embarked on a process of building wealth through property. He has amassed a substantial property portfolio, and is still actively buying and renovating property. His recommendations are based on what works in today's market, not what used to be effective a year or more ago.
Victor's experience, finance background, and financial planning qualifications mean he is well equipped to negotiate with banks – helping them find ways to say "Yes". He has also invested significant time and money in learning from other property investment experts and knows how to make a portfolio work.
Of course, Victor has made a few mistakes along the way but these have made him wiser – and he'll let you learn from his mistakes so you don't need to make them. His goal is to help you achieve your financial goals by sharing his extensive knowledge about financial structures and investment property.
Victor is now sought after as a keynote speaker at several property investment seminars and is acknowledged by his peers as an expert in the industry.
Top Suburbs
Highest annual price growth - click a suburb below to view full profile data:
latest news