We have been talking over the last few months about how to get started in property investing, and discussed amongst other areas, the following key points:

Blogger: Victor Kumar, Right Property Group

          1. Setting realistic goals and how they need to be tangible and directly related to property so that you don't just end up buying real estate,
              but actually progress towards your desired outcome, ie the Reason for buying
          2. Researching an area, how to decipher whats really happening in an area as opposed to what statistical data is telling you ie the Region to
              invest, in line with the property clock
          3. Micro- researching an area, being able to cotton onto changes that are imminent or already underway that will accelerate growth
          4. Making money on the way in, ie buying below market value. It is all about revenue
Despite all of these milestones in property investing, majority rarely go beyond these steps. In short, they become information junkies, and are paralysed with fear of getting things wrong, and don't take that leap.
The common ones that I come across when I deal with would be and first time investors, are really irrational when you really take an indepth look.
One of the key ones is equating making mortgage repayments on an investment property akin to that of owning your own home, with the expectation that as the owner, you would have to come up with the whole of the mortgage repayments. They forget, in their overanalysis that the tenant contributes to majority if not all of the mortgage repayments if they adhere to sound investing principles as previously discussed. Naturally, you do have to have a contingency for all other associated expenses including vacancy.
Alternatively, they get caught in what I call analysis paralysis and think that they have to do everything themselves, and fear that they do not have the skills.
I was, in my early investing life, a victim of this. I was presented a three bedroom villa that had cigarette tar on walls and the carpet was, well, non existent. It was being sold for the price of a two bedroom villa because of its condition. I agonized over the decision to buy or not for two weeks, and eventually, the agent sold to another astute investor. What was I agonizing over? How to paint and replace carpet, as it appeared overwhelming. I forgot the WHY. In other words, why I was investing. Had I answered that question, the how and who of the equation would have been taken care of, as I would have had a motivating enough reason.
In life, people agonise over decisions, afraid of getting it wrong. They do eventually decide, but are still afraid to implement.
About the Blogger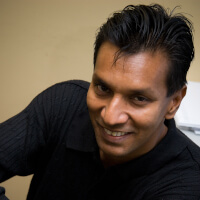 Nearly 15 years ago Victor and his wife came to Australia from Fiji with just $4,500 in their pockets. They worked hard as radiographers but realised this was not the way to prosperity. Victor embarked on a process of building wealth through property. He has amassed a substantial property portfolio, and is still actively buying and renovating property. His recommendations are based on what works in today's market, not what used to be effective a year or more ago.
Victor's experience, finance background, and financial planning qualifications mean he is well equipped to negotiate with banks – helping them find ways to say "Yes". He has also invested significant time and money in learning from other property investment experts and knows how to make a portfolio work.
Of course, Victor has made a few mistakes along the way but these have made him wiser – and he'll let you learn from his mistakes so you don't need to make them. His goal is to help you achieve your financial goals by sharing his extensive knowledge about financial structures and investment property.
Victor is now sought after as a keynote speaker at several property investment seminars and is acknowledged by his peers as an expert in the industry.
Top Suburbs
Highest annual price growth - click a suburb below to view full profile data: