How can you create two income streams from one property without compromising on quality, tenant experience and aesthetic appeal?
Blogger: Paul Wilson, Educating Property Investors, We Find Houses and We Find Finance

A number of factors, such as a moving population, key infrastructure, affordability and the rise of mini CBDs have investors now searching for different types of properties in different locations.
In the 1980s, investors were searching for spacious three-bedroom, two-bathroom houses with a backyard, on a decent block of land located 20 kilometres from the city.
These days, investors are looking for compact yet functional apartments or townhouses within walking distance to amenities like shops and transport, and ideally located in a satellite city.
Meanwhile, the criteria for what makes a good investment will never change – find an area with good potential for capital growth and ensure the house's condition and features are of a great standard, among other things.
As a buyer's agent, I've seen first-hand the shift towards different types of properties in different locations and I've made some interesting observations.
In a previous article, I touched on co-ownership – this method of buying is a great way to fast-track your way into the property market. But if the co-ownership structure doesn't suit your portfolio, you might consider another option: dual property – also known as a dual occupancy development, a duplex and, in some cases, a townhouse.
A dual property is effectively two conjoined properties on one block of land that share at least one common wall. Each dwelling has no shared rooms or entrances and features its own bedrooms, bathrooms, living areas and garage. The property may be strata or non-strata titled, but that makes for a whole other article.
Buying a property that has two dwellings on one title enables you to get the best of both worlds – a place to live plus an investment where someone else is helping you to service the loan, all while receiving the many deductions and advantages of holding an investment property.
I find the term 'duplex' has a stigma about it, probably resulting from their old reputation of having an unattractive design and being located in run-down suburbs – but times have changed.
Modern innovation has changed the way duplexes are designed and built, boosting their street cred by appearing as one big house rather than two, and featuring inside everything the post-'90s investor is looking for in terms of fixtures and fittings.
The obvious bonus about buying a duplex is the potential to receive two income revenues on what is effectively one property. Other benefits of buying a duplex include:
- Possible positive cash flow from the outset, if well-purchased
- Affordability in high-demand areas
- The range of options in living arrangements: sell both or you live in one, rent out the other.
The latter is particularly attractive for those just entering the market, as you can subsidise your own housing costs.
This post originally appeared on www.wefindhouses.com.au
About the Blogger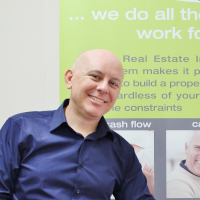 Paul Wilson is an Independent Property Investing Expert who's been educating and coaching investors since 2001. Author of 7 Deadly Mistakes Property Investors Make and How to Avoid Them, he also manages www.educatingpropertyinvestors.com.au, www.wefindhouses.com.au, and www.wefindfinance.com.au. 
Through his books and websites, Paul provides valuable, independent guidance and support by teaching strategies on how you can invest successfully, while protecting yourself from the common mistakes that trap many investors from reaching their full potential.
Paul doesn't promote cookie cutter strategies, instead he demonstrates how you can create wealth as a property investor regardless of your budget, location, strategy and risk profile. Paul makes his home on the Gold Coast and spends his leisure time enjoying adventures, surf and sun with his wife and five children. Protect and grow your portfolio with knowledge. Contact Paul today for a complimentary consultation: 1800 690 890 and ask for Paul, or email [email protected]
Top Suburbs
Highest annual price growth - click a suburb below to view full profile data:
latest news