If you want to make the most of your portfolio you should be getting depreciation schedules prepared for all your properties – and you need to know the difference professionals can make in this area.
Blogger: Paul Wilson, Educating Property Investors, We Find Houses and We Find Finance

Do you have depreciation schedules prepared for all of your investment properties? And if you do – have they been prepared by a qualified quantity surveyor?
In an effort to keep their budget in check, many property investors feel that depreciation schedules (DS) are something they can manage quite easily themselves.
They lodge a tax depreciation report with the ATO that shows the value of the property, any additional assets that have been added to the property in the past financial year and what depreciation allowance is due to the owner.
The problem with this is that historically, investors who do their own depreciation have been more likely to be investigated by the tax department.
Instead, why not get a qualified quantity surveyor to do it? They will often unearth additional deductions that will make paying their professional fees more than worthwhile.
Unlike mortgage brokers and rental property managers, quantity surveyors are somewhat of a secret asset to property investors.
While they are commonly consulted in the construction phase of a project, they can also be used to review and inspect a pre-existing property to determine depreciation and capital works tax deductions.
There are two good reasons to employ the services of a qualified quantity surveyor to take care of the depreciation schedule for your investment properties:
1. The cost of having a DS drawn up is tax deductible for a property investor
2. Their expertise will likely identify claimable assets that you would never have thought of on your own
Quantity surveying services can also provide building cost estimates, construction contract consulting and management, feasibility reports and other reports that may be applicable to various situations.
Another service of a quantity surveyor is insurance replacement reports, which are very important in the case of property damage. A replacement report will determine the true value of restoring your property to its former standard after damage and give an estimate of the full construction costs to rebuild the damage caused by fire, flood or any natural disaster.
In our experience, using professional services nearly always wins out in the end in terms of achieving a better financial result.
Keep in mind that older properties can benefit from depreciation reports too.
This post originally appeared on www.wefindhouses.com.au
About the Blogger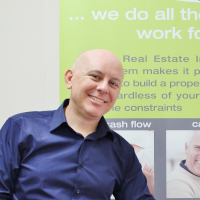 Paul Wilson is an Independent Property Investing Expert who's been educating and coaching investors since 2001. Author of 7 Deadly Mistakes Property Investors Make and How to Avoid Them, he also manages www.educatingpropertyinvestors.com.au, www.wefindhouses.com.au, and www.wefindfinance.com.au. 
Through his books and websites, Paul provides valuable, independent guidance and support by teaching strategies on how you can invest successfully, while protecting yourself from the common mistakes that trap many investors from reaching their full potential.
Paul doesn't promote cookie cutter strategies, instead he demonstrates how you can create wealth as a property investor regardless of your budget, location, strategy and risk profile. Paul makes his home on the Gold Coast and spends his leisure time enjoying adventures, surf and sun with his wife and five children. Protect and grow your portfolio with knowledge. Contact Paul today for a complimentary consultation: 1800 690 890 and ask for Paul, or email [email protected]
Top Suburbs
Highest annual price growth - click a suburb below to view full profile data:
latest news