Investors often think they've nabbed a bargain if they secure a property for below its original listing price, but all may not be as it seems. 
Blogger: Victor Kumar, Right Property Group

Getting dollars off the listed price does not guarantee that a property is below market value.
Quite often, investors turn cartwheels when they have been able to negotiate tens of thousands of dollars off a property's listed price, thinking that they have been able to snatch a bargain. While this may be true in some cases, in other instances the property was simply overpriced to begin with.
So how do you ensure that you are actually paying below the property's market value?
Well, first you need to know what market value is for that type of property in that locale. Once you've determined this, then you can strive to get properties that may have opportunities wrapped up in problems, and find simple, cost-effective ways to solve the problems to realise the true value of the property.
So what are some tell-tale signs that you may be able to get a property well below its potential value?
PRESENTATION
Most would-be and experienced investors will make a judgment on a property just because of the way it is kept or even smells. The cause of the smell could be something as simple as leaking pipes under the house, which would be easily solved. A great example of properties with presentation problems, but solid investment potential, is a hoarder's house or somewhere with really untidy tenants. Often the cleanup is very easy and you are rewarded with an increase in the property's value. Now that the problem has been solved, the property will appeal to a larger group of people.
HIDDEN POTENTIAL
With the right advice and knowledge, you should be able to unlock a property's true value potential – whether it's by adding another bedroom without reducing the living space or knowing who to approach to realise the property's maximum development potential.
An example of this is a property I helped one of my clients buy in Campbelltown, NSW. The property was marketed as a "hall" as it was being used by a chiropractor, who now wanted to sell it, and there were no bedroom partitions. A simple council search revealed there were no issues with converting this into a two-bedroom house, but the real coup was its development potential. Under our guidance, the client is now in the process of getting approval for a five-dwelling development. We have helped to substantially increase this property's value by tapping into its hidden potential, which was not picked up by either the agent or the general public.
POOR MARKETING
The above property would fit this category as well because the property was marketed as a "hall", which considerably reduced the buyer interest in it. Poor marketing can also extend to the photos of the property used in the advertising which may not show the property in its best light.
GETTING TO A PROPERTY BEFORE IT HITS THE OPEN MARKET
This is no secret: if you are able to get to the property before competition heats up, there is a greater chance that you will pay a reasonable price for it. The best way to do this is to spend years cultivating relationships with agents. They will then come to expect that if the property is good enough, you will always be in the market to buy.
So why do you need to buy below market value? The answer is pretty simple: by doing so, you are able to protect your deposit and have that added safety net of making money on the way in – so that in the event that things don't work out for you, you won't lose money when you exit the property.
Read more: 
Were the experts' predictions correct?
How you can come out on top if prices fall
Rocket your rental income by $1,000 instantly – here's how
Why your bank valuation is a little low
About the Blogger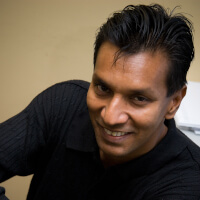 Nearly 15 years ago Victor and his wife came to Australia from Fiji with just $4,500 in their pockets. They worked hard as radiographers but realised this was not the way to prosperity. Victor embarked on a process of building wealth through property. He has amassed a substantial property portfolio, and is still actively buying and renovating property. His recommendations are based on what works in today's market, not what used to be effective a year or more ago.
Victor's experience, finance background, and financial planning qualifications mean he is well equipped to negotiate with banks – helping them find ways to say "Yes". He has also invested significant time and money in learning from other property investment experts and knows how to make a portfolio work.
Of course, Victor has made a few mistakes along the way but these have made him wiser – and he'll let you learn from his mistakes so you don't need to make them. His goal is to help you achieve your financial goals by sharing his extensive knowledge about financial structures and investment property.
Victor is now sought after as a keynote speaker at several property investment seminars and is acknowledged by his peers as an expert in the industry.
Top Suburbs
Highest annual price growth - click a suburb below to view full profile data:
latest news