Mental accounting heavily influences how we spend our money - so here's how to make the right choices if you have a sudden cash injection. 
Blogger: Paul Wilson, Educating Property Investors, We Find Houses and We Find Finance

If I won $1 million, this is what I'd do with it.
I'm entitled to a little fun, right? So to be honest, I'd probably crack a bottle of champers, hold an impromptu celebration with close friends then get down to business the next morning.
Winning one million dollars is a once in a lifetime occurrence – a life-changing event – so there's immense pressure to 'spend it the right way'.
The short answer to how I'd spend it: I'd leverage the money and optimise the outcome. The long answer: this is where it gets interesting…
Having a hefty one mil in your pocket would definitely alter your state of mind and decision making, most of the time inadvertently.
This comes down to 'mental accounting', an economic concept coined by Richard Thaler, which contends that individuals have a tendency to value money differently depending on where it comes from. The theory also claims that we separate our money into different accounts based on a variety of subjective criteria, like the source of the money and intent for each account.
For example, we mentally create spending accounts with implied budgets for activities like entertainment, food, travel, and clothing.
According to Thaler's theory, mental accounting heavily influences how people spend and save their money, which often has an irrational and detrimental effect on their consumption decisions and other behaviours.
We use mental accounting every day, whether we notice it or not, but many don't understand how truly illogical this line of thinking really is.
Think about this: when you get your tax return, do you 'treat' yourself to something nice? Or, do you ever find that you're more willing to gamble the $50 you've just won at the casino but tend to slow down when it cuts into your hard-earned money?
I'd hate to think what winning one million dollars would do to my mental accounting, but I'm hoping at some stage my common sense would kick in.
Monetary psychology aside and getting back to how I'd spend my new found fortune of one million dollars, here's the hypothetical answer:
If I was in bad debt: I would clean up my financial background and pay down my bad debt by consolidating loans, and (hoping that no one is actually in over one million dollars of debt) put some money aside for a deposit on a house. A few years down the track, I would re-borrow against the equity in that investment and reinvest and so on.
If I owned my home plus one investment property: Even mum and dad investors have some sort of bad debt, whether it's a few hundred on the plastic or small-scale car loan repayment. So, again, I'd get rid of my bad debt and then leverage the rest of the money into income producing assets. I would break up the money for deposits on as many properties as I was comfortable with. For example, three $30,000 deposits on three $300,000 properties. Before considering renovations on the principal place of residence, and depending on the type, style and cost of renovation I'd make sure to avoid over-capitalisation.
If I had a property portfolio of more than five properties: At this point in my portfolio, I would have everything working like clockwork in terms of rent covering the loan repayments, so when it comes to extra cash flow, I would look to expand my portfolio even further. And depending on my risk profile, whether passive or aggressive, I'd possibly look at diversification of assets and probably take on a small development. I would also look at setting up an SMSF as it's a great vehicle for legal tax minimisation.
Overall, for all situations and levels of investing experience, I would recommend that you take your time, look at your options, get some great advice and never make decisions in haste.
There are many variables involved, leading to different priorities and outcomes, but whatever you do, don't reward yourself by taking that trip to Vegas.
What are your thoughts on mental accounting? Do you think it has an impact on your daily spending or property investment strategies?
This post originally appeared on www.wefindhouses.com.au
About the Blogger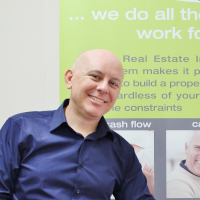 Paul Wilson is an Independent Property Investing Expert who's been educating and coaching investors since 2001. Author of 7 Deadly Mistakes Property Investors Make and How to Avoid Them, he also manages www.educatingpropertyinvestors.com.au, www.wefindhouses.com.au, and www.wefindfinance.com.au. 
Through his books and websites, Paul provides valuable, independent guidance and support by teaching strategies on how you can invest successfully, while protecting yourself from the common mistakes that trap many investors from reaching their full potential.
Paul doesn't promote cookie cutter strategies, instead he demonstrates how you can create wealth as a property investor regardless of your budget, location, strategy and risk profile. Paul makes his home on the Gold Coast and spends his leisure time enjoying adventures, surf and sun with his wife and five children. Protect and grow your portfolio with knowledge. Contact Paul today for a complimentary consultation: 1800 690 890 and ask for Paul, or email [email protected]
Top Suburbs
Highest annual price growth - click a suburb below to view full profile data:
latest news