There's so much talk out there at the moment about the budget, retirement and superannuation, but should those planning for their financial future be worried by the dire predictions? 
Blogger: Paul Wilson, Educating Property Investors, We Find Houses and We Find Finance 
The RBA's Glenn Stevens recently warned soon-to-be retirees that they will face tough times ahead. 
He also says that as a result, they will need to take more risks with their life savings and investments to fund their retirement than those in the past, in order to generate an adequate future income.
The alarming thing is that retirement should be a time of scaling back risk and adopting more conservative approaches to finance and investment.
Soon-to-be retirees, in a perfect world, should have accumulated a substantial amount of superannuation, own their own home and perhaps an investment property and hopefully have a nice sum of savings.
But this is unfortunately far from the reality.
The latest ABS Survey of Income and Housing shows that the average value of superannuation for Australian households was $132,000. It's worth mentioning that this doesn't paint an accurate (or as positive) picture, as it's an average and not a median calculation.
This means that there are people out there with much less to their name who will soon retire and come to realise that they just don't have enough. But how much is enough? And what determines a modest or comfortable lifestyle?
According to the Association of Superannuation Funds of Australia (ASFA) Retirement Standard, a modest retirement lifestyle is better than the age pension, but still only able to afford fairly basic activities.
On the other hand, a comfortable retirement lifestyle would enable an older, healthy retiree to have a good standard of living through the purchase of things such as household goods, private health insurance, a reasonable car, good clothes, electronics and domestic and occasionally international holiday travel.
The most recent national figures released for the ASFA Retirement Standard show that, in general, a couple looking to achieve a comfortable retirement at 65 needs to spend $56,444 a year, while those seeking a modest retirement lifestyle need to spend $33,799 a year.
With some simple math, if you and your spouse were to retire on the average super balance of $132,000 mentioned above, and with the hopes of leading a comfortable retirement lifestyle, your super would only last you just over two years.
For those now thinking they would only be able to fund a modest retirement lifestyle, your super would still only last you just under four years.
Sure, you could fall back on the age pension, but what kind of a life would that be? Far from the retirees driving off into the sunset.
My point here is that we need to start taking responsibility for our own retirement. It's never too late to start saving and if you're young enough, I urge you to invest in property to create long-lasting wealth for your future. There's no other more stable and rewarding asset class that can provide the benefits it does.
About the Blogger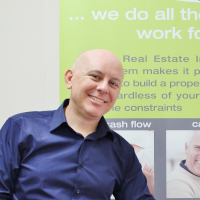 Paul Wilson is an Independent Property Investing Expert who's been educating and coaching investors since 2001. Author of 7 Deadly Mistakes Property Investors Make and How to Avoid Them, he also manages www.educatingpropertyinvestors.com.au, www.wefindhouses.com.au, and www.wefindfinance.com.au. 
Through his books and websites, Paul provides valuable, independent guidance and support by teaching strategies on how you can invest successfully, while protecting yourself from the common mistakes that trap many investors from reaching their full potential.
Paul doesn't promote cookie cutter strategies, instead he demonstrates how you can create wealth as a property investor regardless of your budget, location, strategy and risk profile. Paul makes his home on the Gold Coast and spends his leisure time enjoying adventures, surf and sun with his wife and five children. Protect and grow your portfolio with knowledge. Contact Paul today for a complimentary consultation: 1800 690 890 and ask for Paul, or email [email protected]
Top Suburbs
Highest annual price growth - click a suburb below to view full profile data:
latest news